by Thuy Dinh, editor-in-chief of Da Mau magazine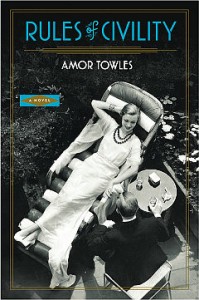 Rules of Civility, Amor Towles's debut novel, deftly reflects the American sensibility of being a nation of transplants. Structured as a bildungsroman, the novel begins in New York circa 1966 and proceeds backward to 1938, illustrating the youthful adventures of Katey Kontent, an orphaned but plucky twenty-something Russian immigrant.
Katie's only assets are her wit, education, and emotional resilience. These inner assets make up the "True North" that guides her voyage through the treacherous undertow of social and gender assumptions, from a lowly job as a secretary to a plummy position as a Conde Nast magazine editor and happy marriage to a member of the Long Island gentry. As a meditation on the idea of being chosen (based on the gospel according to Matthew), the novel illustrates why many "beggars" are called to the wedding banquet that symbolizes America, yet only a few can survive the demands of this new world.
As a novel about dispossessed characters driven to reinvent themselves, Rules echoes Truman Capote's Breakfast at Tiffany, with a gigolo passing as a Boston Brahmin, and a cornfed Midwesterner reborn as a continental socialite and Hollywood mogul. Towles is dead on when he describes the quintessential American need to redefine nature through desire and violence, such as when Katey articulates her attraction to guns:
[P]eering down the barrel into the open air, you suddenly had the power of a Gorgon—the ability to influence matter at a distance merely by meeting it with your gaze. And the feeling didn't dissipate with the sound of the shot. It lingered. It permeated your limbs and sharpened your senses—adding a certain possession to your swagger, or a swagger to your possession….

If only someone had told me about the confidence-boosting nature of guns, I'd have been shooting them all my life.
The title is a direct reference to George Washington's 110 Rules of Civility and Decent Behavior, written at the tender age of 14, encapsulating a code of behavior for young men that confirms the American hidden fascination with class and wealth.
But the novel also allows Katey to supplant Washington's status-oriented rules with what can be called the Tao of Inner Peace. Katey's principal rules include the literal and/or metaphorical appreciation of "a morning cup of coffee," kindness to strangers and a deep strength in one's conviction. Above all, Katey yearns to live "in a perpetual state of wonderment" like a child about to take her first steps. But while Katey understands this romantic ideal, she realizes that assimilation is the first order for survival, and that means the loss of innocence and the exclusion of certain possibilities.
For extra effect, Walker Evans's photography project Many Are Called, undertaken during the time period of the novel (1936-1941) and capturing the expressive faces of New York subway riders hurtling through dark tunnels, acts as the novel's recurring motif: how strangers' lives collide and foster the cultural milieu of their time. The everlasting tension between rugged isolationism and noble yearning for global engagement is amplified by Katey in the novel's epilogue:
Life doesn't have to present you any options at all….To have even one year when you are presented with choices that can alter your circumstances, your character, your course—that's by the grace of God alone. And it shouldn't come without a price.
Amor Towles's novel is, in essence, a literary restatement of the Declaration of Independence. Its bittersweet message resonates deeply, for it brings home the fact that freedom is both hard won and miraculous.
************
Viking is kindly allowing me to give away a copy of this book. To enter, leave a comment telling me the one rule you always try to follow in polite company. Doesn't have to be a serious, important one. I'd accept something like "Always wear deodorant." Giveaway ends this Sunday, August 21, 5 p.m. PST. U.S./Canada residents only, please, and no P.O. boxes.—PCN