Before I get to this giveaway, I want to announce the two winners of Karin Slaughter's Criminal:
Congrats! Please fill out this contact form with the address where you'd like the publicist to ship your book.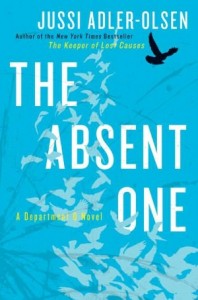 If you're a regular reader here, you know I don't do a lot of giveaways, but I've been offered some really good titles to give to PCN readers this month. Next is Jussi Adler-Olsen's The Absent One, the second installment in his Department Q series featuring detective Carl Mørck and his trusty assistant, Assad. The first book, The Keeper of Lost Causes, was one of my top three reads last year. This time, Mørck and Assad reinvestigate a twenty-year-old double homicide that appears to have been solved, and their actions lead to devastating discoveries. My review of this for Shelf Awareness for Readers won't run until close to the book's August 21 pub date, but thanks to Dutton, I get to give away two galleys right now.
To enter, leave a comment telling me about something you thought was true for a long time, but then found out it was not. As usual, lies are accepted. Giveaway ends next Tuesday, August 14, 9 p.m. PST. US residents only, no P.O. boxes. Winners will be randomly chosen and have 48 hours to claim the prizes.
Have fun!