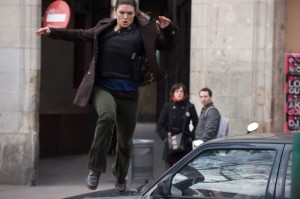 As part of the AFI Fest presented by Audi going on here in Los Angeles, there's a secret screening that's announced on the day of the screening. Organizers revealed hours before the Sunday night event that the secret movie was Steven Soderbergh's Haywire (to be released January 20, 2012), an action-thriller starring Ewan McGregor, Michael Fassbender, Channing Tatum, Bill Paxton, Michael Angarano, Antonio Banderas, and Michael Douglas. But the anchor of the movie is mixed martial arts star Gina Carano as Mallory Kane, an operative with a private contractor who does dangerous work for the government. A journalist she successfully rescues in Barcelona ends up dead and she's framed for his murder, becoming the target of assassins almost as lethal as she is.
I was at the 9:30 screening with my trustworthy contributor Eric Edwards, so we decided to discuss it afterward in lieu of a regular movie review.
Pop Culture Nerd: Carano is badass for sure, completely convincing as a tough chick who beats the crap out of everyone. I didn't think the movie was entirely successful, though. The fights were amazing, but  some of the non-physical scenes were clunky.
Eric Edwards: I really enjoyed it. The story was very much a low-rent spy thriller but the cast makes it work. Usually producers hire a star or two and fill out the rest of the cast with lesser stars. What Soderbergh did was hire a non-actress and fill even small supporting roles with stars and well-known actors so she wouldn't have to carry the movie by herself.
PCN: But it's obviously a showcase for her, and everyone else just came along for the ride. She's kinetic to watch in the fight scenes, but you can tell she's less comfortable in the ones when she's just talking (Carano admits that in the post-screening Q & A). Some of her line readings sounded like just that—someone reading from a page. But she's beautiful, and I like her, and that's why I wanted her to be a better actress. I suppose that will come with time and more experience if she does more movies.
EE: For me it was simpler than that. She's sympathetic because her character is being screwed over. In every fight scene, she's going up against a guy who's bigger than her—
PCN:  Except for Ewan McGregor.
EE: Hey now, don't pick on Obi-Wan.
PCN: Just sayin'. Now, Michael Fassbender is a formidable opponent. He's ripped, and their fight scene is the best.
EE: Yup. Hands down. I still don't know how either one of them survived that.
PCN: Fassbender said he puked after two days of filming it!
EE: I'm surprised he didn't puke while shooting. Did you see how many times her knee went into his gut?
PCN: And elsewhere. You know, for a brutal fight flick, there was very minimal blood, and I appreciated that. It wasn't injury porn.
EE: Yeah, surprisingly little blood, but I felt every one of those hits, didn't you?
PCN: Not really, 'cause I'm not a man and I don't have balls. I was exhausted after each fight.
EE: Yeah, her style of fighting was breathtaking.
PCN: I liked that they didn't try to make it pretty. It was raw and dirty. She fought to survive.
EE: And you were always rooting for her.
PCN: I thought the pacing lagged whenever the action stopped. There were weird pauses and drawn-out moments that I felt could have been more tightly edited.
EE: I disagree. The flashbacks worked well as a device to explain what was going on. Soderbergh showed us the backstory without making Carano fill us in. I think it was a smart move to give her fewer lines and let her shine elsewhere.
PCN: I got a little bored when it was just dudes explaining stuff.
EE: It was necessary!
PCN: Let's talk about the music. Did it sound to you like it was from a cheesy '70s action film?
EE: Yes, but I think Soderbergh did that because the story felt that way in general. It was a wink to the audience.
PCN: Why do you think Soderbergh was trying to evoke cheesy '70s movies?
EE: Because it's kind of retro cool. Maybe he's trying to reinvent the B-movie by making one with an A-list cast.
PCN: He said in the Q & A he was going for a kind of early Bond movie so I guess the score needed to go back at least another decade.
EE: Well, it worked for me, and I don't think there's anything like this movie out there.
Nerd verdicts: PCN—Haywire but enjoyable. EE—Haywire is a cinematic haymaker.
Soderbergh, McGregor, Fassbender, and Carano participated in a hilarious Q & A afterward moderated by Joel McHale. I'll post a recap of that, as well as reviews of other festival films, within the next week. AFI Fest continues through November 10.