At the start of the year, Lake Superior State University published its annual list of words and phrases it feels should be banished. I perused the list and found that several are not that offensive. "Amazing"? "Baby bump"? "Trickeration"? I've never even heard of that last one (I don't watch sports), much less be sick of it.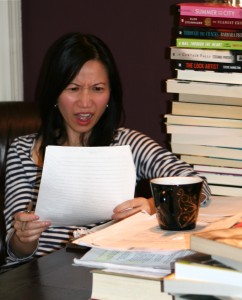 So I decided to compile my own list of words that I wish would go away, because they're annoying, abused, misused, or they just don't make any sense to me. I want to stop making the expression in this picture because it causes wrinkles.
Here goes:
Nom nom. Is this supposed to be an onomatopoeia? It doesn't sound like any noise I've ever heard anyone make while eating something delicious. It sounds more like someone chewing with their mouth open.
Interwebs. I think someone was being cute, came up with an alternative to Internet—a smush of Internet and World Wide Web?—and then that person's friend said, "Hey, that's cute! I'm going to use it, too!" A million people later, it's not cute anymore.
Lurve. In high school, all the "luv" in my yearbook made my teeth hurt, and now it's the updated version of the lame-ass alternative people use when they can't or don't want to say "love." Say the real word and mean it, or don't say it at all. Who wants to be lurved?
Shit ____say/s. First it was my dad, then it's girls, black girls, white girls, San Franciscans, L.A. people, rich people, and now even Liz Lemon. Say it isn't so, NBC. Enough with all the shit already!
Can of whoop/whup ass. It's not 1998 anymore.
Grabs you by the throat and doesn't let go. I was in a bookstore recently and saw this phrase as a blurb on 1 out of 2 books I picked up. Granted, I was in the mystery/thriller section so this phrase may not be as prevalent on, say, romance novels (unless the characters like a little rough action). But seeing it on so many books I read has made it completely useless to me, and I wish reviewers/blurb writers would let the phrase go.
Totes (in place of "totally"). Do I have to say more?
Anyhoo. This one confounds me. It's not a shorter version of "anyhow," and is spelled almost exactly the same. When you get to that last letter, is it so much easier to type an "o" instead of a "w"?
Literally (when it's not literal at all). Just today, I read that a recently Oscar-nominated actress said, "Literally, like, my brain snapped in two." Really?
Of course, I'm not literally having conniptions over these words; this is done in ranty fun. Now it's your turn. What words or phrases would you like to see exiled from our vernacular? Did I use any of them in this post?