Wow, I was bored throughout this show, despite the fact it's produced by my union and I got to vote for the awards. I can't even do a best & worst list because the show was, ah, listless and predictable. (Except for when Tina Fey took Steve Buscemi's wine glass from him and chugged it.) It got to the point where I was happy people didn't show up to accept their awards because then the show could move closer to its conclusion.
I did wake up a little when Jean Dujardin won best actor for The Artist because, while I adore George Clooney, I liked Dujardin's performance more. After he won, I crossed my fingers for Michelle Williams to pull an upset, too, for her transformative work in My Week with Marilyn, but I'm good with Viola Davis's win for The Help.
I voted for Artist for best movie ensemble (wonder if Uggie would've gotten an Actor?) but Help's win is fine. I did wish, though, that Cicely Tyson had been allowed to make the acceptance speech since 1) she's a legend, 2) Davis already had her moment when she won her individual award, and 3) Davis herself said Tyson was the reason she wanted to be an actor when she was eight years old.
Anyway, the rest of the winners are:
Supporting actress in a motion picture: Octavia Spencer for The Help
Supporting actor in a motion picture: Christopher Plummer for Beginners
TV drama ensemble: Boardwalk Empire
TV comedy ensemble: Modern Family
Actress in TV drama series: Jessica Lange for American Horror Story
Actor in TV drama series: Steve Buscemi in Boardwalk Empire
Actress in TV comedy series: Betty White for Hot in Cleveland
Actor in TV comedy series: Alec Baldwin for 30 Rock (he's hilarious but pleeeease give it to someone else next year! Six is enough for this role!)
Actress in a TV movie or miniseries: Kate Winslet for Mildred Pierce
Actor in a TV movie or miniseries: Paul Giamatti for Too Big to Fail
Movie stunt ensemble: Harry Potter and the Deathly Hallows Part 2
TV stunt ensemble: Game of Thrones
Even the fashion was ho-hum, not many eye poppers or obvious train wrecks. Some highlights:
1. Michelle Williams. I love that she wore a bright color, and the Valentino is very pretty, but the shoes look a little mall-ish.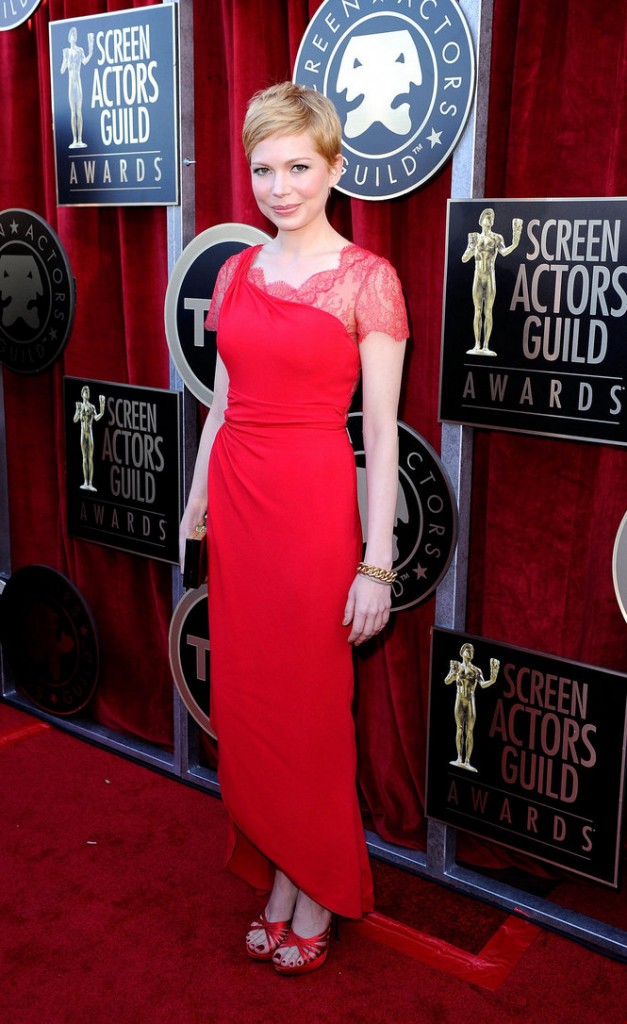 2. Viola Davis. Fantastic gown; not sure about the hair, though. Perhaps pulled back and sleek would have been better for a whole goddess-like look.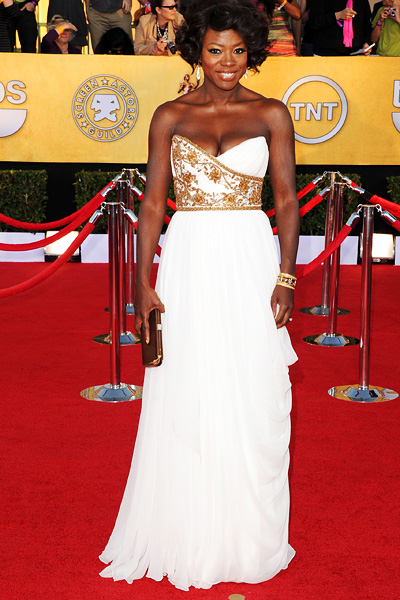 3. Sofia Vergara. This color is smashing on her, but she still stayed safe in the same body-hugging silhouette she usually wears.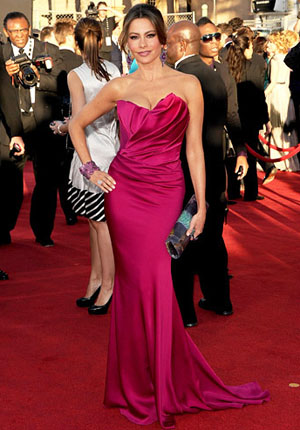 4. Jessica Chastain. The vibrant blue is much better than the white she wore to the Globes, and it's striking against her red hair, but overall the dress is pretty dull.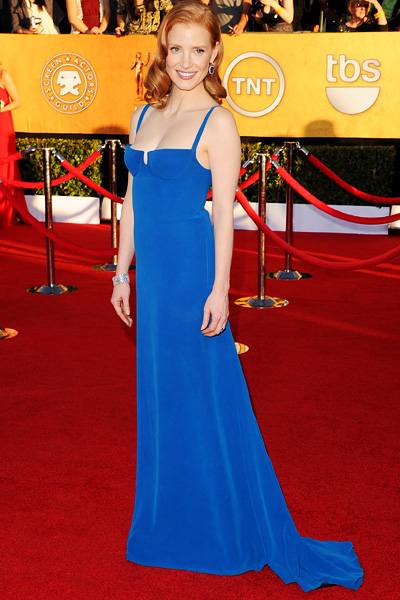 5. Shailene Woodley. This dress didn't make sense to me at all. Maybe she was going for a Hawaiian motif to represent The Descendants?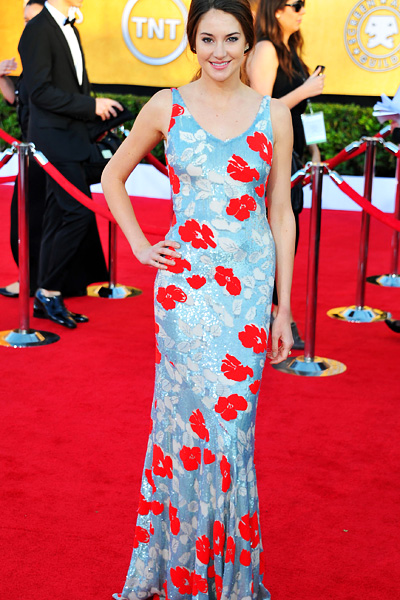 6. Lea Michele. This made me think of Dave Matthews's "Crash into Me" lyrics: If she hikes up her skirt a little more, she'd show her world to everyone.
7. Jennifer Carpenter. This is one of my favorites. It might be shorter and more casual, but the beading and details are beautiful, and the dress looks perfect for a sunny, almost 80-degrees day.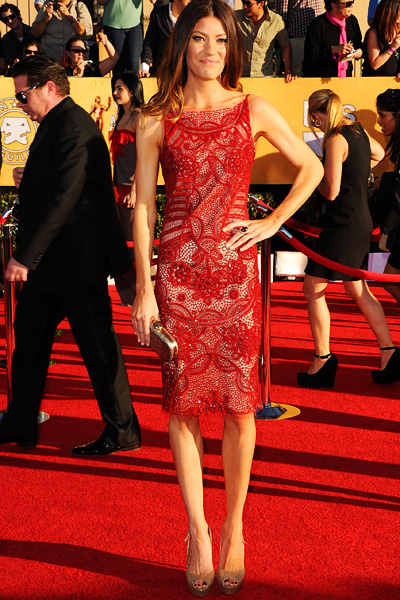 8. Emma Stone. She's so adorable, she can wear whatever she wants.
9. Tilda Swinton. You know you're in for a slow night when even her gown looks drab.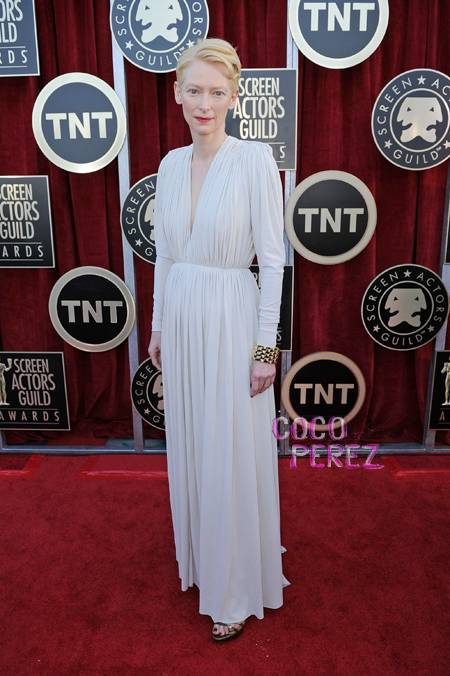 10. Angelina Jolie. The draping is very sensual, and the metallic gives it a touch of rock 'n' roll, but it's black. Zzzzzzzzzz.
11. Naya Rivera. I'm tired of looking at her breasts at every award show. If it's not front cleavage, it's side boobs. We get that you're hot, now try something classy next time.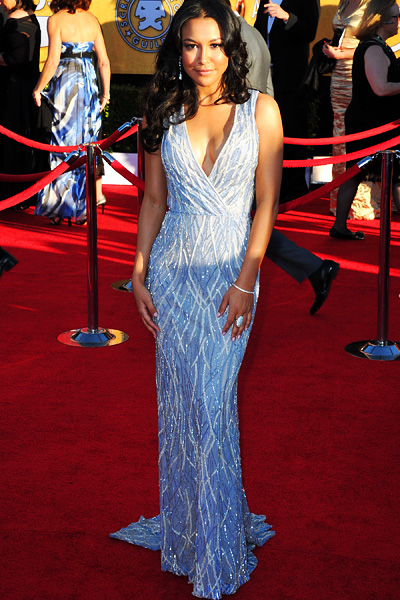 12. Emily Blunt. This is a difficult color to wear, but she looks stunning in it. The fit of the gown is divine.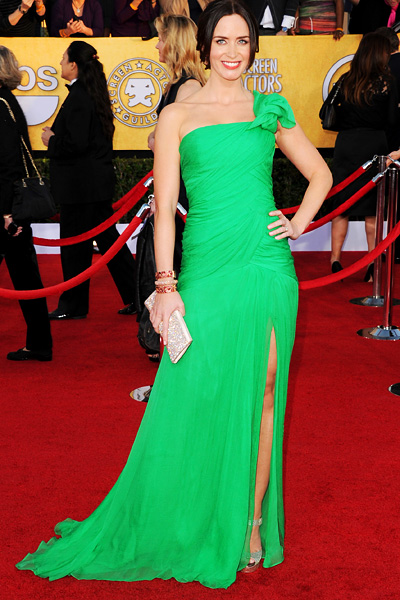 13. Meryl Streep. Mr. PCN said he kept expecting her to pull out a lightsaber from her Jedi-looking outfit.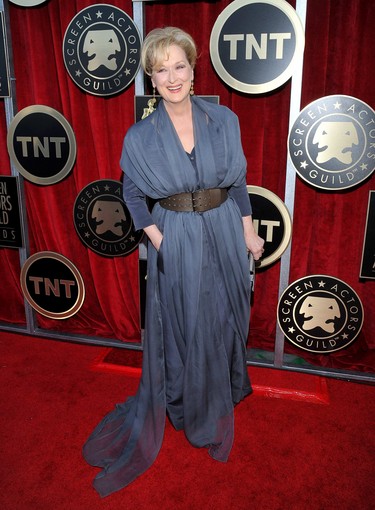 14. Rose Byrne. She said she was inspired by Michelle Pfeiffer's Scarface look. Works for me.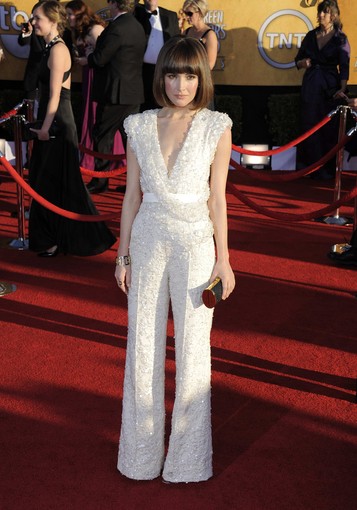 15. Regina King. We end with my favorite of the evening. It makes me think of spring.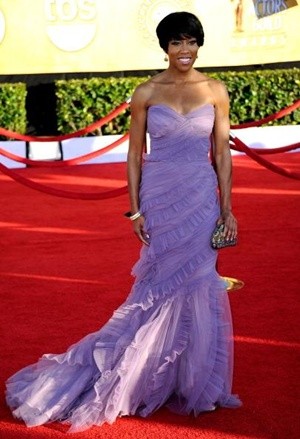 Which were your favorites?