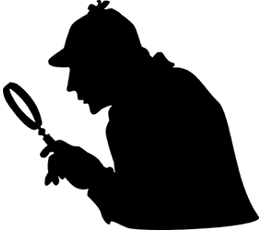 I recently read three crime novels in which the character names were so over the top that they kept distracting me from the story. I couldn't focus every time the ridiculous monikers came up because I was either rolling my eyes or snickering. And these were the leads! Instead of continuing to read, I started thinking about what makes a good character name and this post was born.
I'm guessing that the overly dramatic names are meant to make the characters unique. I understand they should be something that if you look in the White Pages (if you still use such a thing), you shouldn't see eight of them, like you might with a Bill Johnson or Ann Martin. I also get that, say, Larry Brown, may not be sexy enough for a protagonist who's a spy or former SEAL, and Judy Anderson may be more appropriate for a nice neighbor than an assassin. But when authors go to the other extreme and name their characters along the lines of Brock Savage or Hunter Chevalier—I'm talking thrillers here, not Harlequin romances—I cannot take them seriously. I keep expecting someone to rip open his shirt while caught in the rain in a meadow.
My theory is, the names that work best are those with one unusual name combined with a more common one. Indiana Jones, Sherlock Holmes, Dave Robicheaux, Elvis Cole, Sam Spade, Jane Marple, Matthew Scudder. I've known people named Jones, Holmes, Dave, Cole, Sam, Jane, and Matthew, so that makes those characters relatable, while the other half of their names sets them apart. Give me two weird names and I'm just going to laugh, wondering if those characters have celebrity parents.
Have character names ever distracted you from an otherwise good story? What are some of your favorite literary names, and why do you like them?