My review appeared in Shelf Awareness for Readers last week and is reprinted here with permission.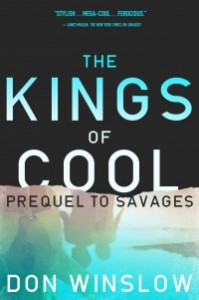 After Savages became a breakout hit and Hollywood movie (directed by Oliver Stone, out July 6), Don Winslow is back with the origin stories for his renegade pot growers Ben and Chon and their friend O, including how the latter two met and how Chon got his nickname. Winslow delves into their parents' backstories, giving dimensions to O's mom, previously known only as Paqu—Passive Aggressive Queen of the Universe—and showing how the boys were almost fated to do what they ended up doing. It's about choosing your family, but this is no warm and fuzzy (drug) trip into the past. Bullets fly and people die, as Ben and Chon discover that they "make up a collective pacifist. Ben is the paci Chon is the fist."
As with Savages, this novel has a profane two-word first chapter, and unfolds in a combination of prose, free verse, and screenplay format. This might have resulted in a disjointed mess, but Winslow already proved with the previous book (which can be read before or after this one) that he's a master storyteller who knows how to use whatever style best serves each scene. He keeps his dialogue hip and his prose lean, landing each word like one of Chon's roundhouse kicks. Throw in his trademark wit, blistering violence, razor-sharp social commentary, and cameos from characters from his non-Savages-related novels, and this is one summer read that's as scorching hot as it is cool.
Nerd verdict: A Cool read for the hot days of summer
Buy it now from Amazon
| Buy from an indie bookstore