*Don't read any further if you haven't seen the finale!*
I'm sitting here in a neck brace typing with only one hand because the other one arm isn't working and the doctor says I really shouldn't be on the computer. But the Revenge finale was quite good, after a few disappointing eps, so I wanted to tap out a few words about it.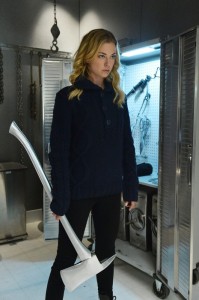 Emily ninja'd White Hair with a giant ax! I don't know why she threw it down after taking a few swings at him, and then got a good beating because of that, but her swinging that thing made her look formidable.
I like how simply Em and Daniel ended their relationship. He's been slowly turning into a d-bag so I thought there'd be yelling or melodrama, but it was done quietly, and I believed Daniel might have even been hurt.
Loved Em's response to Victoria when she came over to offer her "condolences" on their breakup: "I can feel your devastation." And that engagement gift/empty box? Ice cold on V's part.
Did anyone else think that kiss Conrad gave Lydia when he said goodbye was a total Godfather move? Could he be working with the mob?
I yelled, "Noooooo!" when Daniel and Ashley were making googly eyes at each other. She's a backstabbing, manipulative little b. Then again, she might be perfect for him, where he's headed.
Charlotte scrolled through a Rolodex to find the detective's name? Was this 1996? I liked her OD at the end, though. That character has been so colossally annoying, I can only hope she doesn't make it to next season, especially after that horrible, bullying stunt she pulled on Jaime.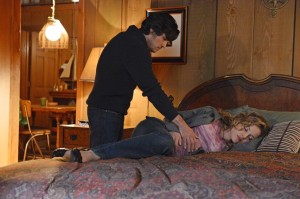 Didn't expect FauxAmanda to suddenly reappear—pregnant!—but am glad Em won't be all happy with Jack. The show needs her to stay angry and "revenge-y," as Nolan said. Also, I've never thought she had great chemistry with Jack, who's a rather dull character. I resent him for not recognizing the real Amanda. If she's his true love, he shouldn't just buy a substitute so easily.
Speaking of FauxAmanda, where has she been all this time? No one bothers to ask her that? Just "Hey, I disappeared for months, but am now gonna have your baby, Jack"?
The twist about Em's mom being alive was…interesting, though very Alias-y. Not just the previously-presumed-dead-mom-who's-actually-alive plot line, but because Mom is apparently also a badass since White Hair said Em fights like her. Someone call Lena Olin's agent to see what she's doing this summer!
What did you think of the finale? Were you surprised by anything? Are you hooked for next season?
Photos: ABC/Eric McCandless