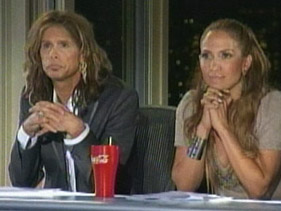 Season 10 of American Idol started off on a kinder note but I'm not sure if it's better. Steven Tyler, Jennifer Lopez and Randy Jackson seem to have a more cohesive energy than last year's panel of judges but I definitely missed Simon Cowell's presence and biting remarks. Every time he opened his mouth, it was a delicious soundbite waiting to happen. Tyler and Lopez didn't necessarily give poor feedback, but I can't remember anything specific they said.
Quick impressions of the new judges: Tyler got the hang of judging and letting people down gently faster than Lopez but was borderline inappropriate in ogling the pretty girls. It's okay when they're of age but at one point, he was admiring the skirt on 16-year-old Victoria Huggins and said, "You have just the right amount [of legs] showing." Um, wrongness much? He has a thousand years on her!
Lopez seemed sweet but after a while, I got annoyed at her inability to say no to bad "singers." I know it's hard to crush someone's dreams but she's getting paid a busload of money so she should just do her job. All the "Oh, I'm so uncomfortable with this" protestations got a little old and I wondered if she wasn't putting it on thick to let us know what a nice person she really is.
I was most irritated when she put through Ashley Sullivan, who sang "Gimme Gimme" from Thoroughly Modern Millie only moderately well and then declared, "I want to be the first show-tune pop star!" (Oh, dear, no—that's a hybrid I never want to see). Lopez didn't seem impressed but Sullivan sobbed hard and begged even harder. Lopez finally threw her hands in the air, said yes and added, "I don't care!" Really? If you don't, why should we? I tune in to see the amazing talent you're supposed to help discover, not put up with mediocre wannabes you foist on us to avoid feeling guilty.
OK, on to the singers. Some memorable ones from the New Jersey auditions:
Caleb Hawley—his voice came out much higher than I expected it to be but he was passionate about what he was singing and got into a nice groove with Tyler singing along (aren't judges only supposed to listen?). He was a little scruffy but I could see a cute guy under there so if he gets cleaned up for Hollywood, tweens will eat him up.
Kenzie Palmer—the first 15-year-old to try out (the show lowered its minimum age requirement this season) is cute as a button with a voice much more sophisticated than her age.
Robbie Rosen—the kid with the wide smile and beautiful vocals who wowed with "Yesterday." His voice was sweet and longing when it went soft, and powerful when he needed to hit certain high notes. I liked him even more for not using the story about his overcoming paralyzing synovitis at age 5 to make the judges feel sorry for him. When you've got the goods, you don't need any tricks.
Tiffany Rios—her first strike for me was giving tutorials on how to tease your hair for that Jersey 'do. (Funny, her hair didn't look any better afterward.) Second strike was wearing big silver stars on her boobs, which were encased in a bikini top. Third? Announcing she'd sing an original song she made up for the show. Does that ever go well? Surprise! She has a decent voice! Color me shocked! I still thought she was doomed because the song was awful and cheesy but the judges let her sing another tune and she confirmed her skills with "I'm Your Lady." She has got to leave the tackiness at home, though, if she wants to be taken seriously in Hollywood.
Michael Perotto—the dude who belches whenever he gets nervous. At first I thought, "Oh man, I wouldn't want to be sitting next to him in the waiting area." And then I thought, "Well, at least the nervous gas isn't coming out his other end." He was terrible and yes, gave us one final belch before leaving.
Yoji "Pop" Asana—all this guy did was confuse me. He said he'd been imitating Michael Jackson from before he was born (??) but didn't want to do that. Then he said he didn't like Miley Cyrus's song "Party in the USA" but he would do that. And then he busted out MJ's moves, including the moonwalk, while singing Cyrus's song and looked angry the whole time!
Melinda Ademi—she and her parents are refugees from Kosovo, looking for a better life here. Melinda's golden ticket to Hollywood might help. She's beautiful and sang "If I Ain't Got You" in a big if not-yet-memorable voice.
Brielle Von Hugel—everything about the girl with a flower in her hair and a father who overcame throat cancer is sweet, including her voice. But at 16, I don't know how much she knows about "Endless Love."
Travis Orlando—the last kid seen in NJ who lived in a shelter with his family but refused to let go of his dream of singing. The long extended video about the family's struggles after his father got sick was so depressing, I kept saying, "Oh, please be good, please be good" as he walked into the audition room. His "Eleanor Rigby" was a little wonky but then he sang "I'm Yours" and was much better. His voice was a little constricted as if his throat was tight due to nerves but he had a unique tone. I exhaled when the judges put him through and his family cried.
Did you watch? What did you think of the new judges? Which singers stood out for you?
Photo: FOX