As many of you know, today is the beginning of the annual BookExpo America (BEA) in New York City. I hope to attend one day, but since it wasn't in the cards this year, I signed up for Armchair BEA, an online event that allows bloggers and book lovers to still enjoy some of the festivities via live streaming and Internetworking, among other things. The armchair is pretty much my favorite place in my home so this should be fun and comfy.
The first thing we have to do is introduce ourselves via a self-interview, choosing 5 questions from a predesignated list. Here are my answers.
Q: What is your favorite feature on your blog?
Pop Culture Nerd: This will sound super cheesy, but it's the comments section. Yes, I enjoy reviewing books and movies, and interviewing authors, and sharing random stories, but I would just be a nerd silently doing a face plant in the forest if people didn't take time to leave funny, insightful, encouraging comments. I love the conversations they engender.
Q: What literary location would you most like to visit? Why?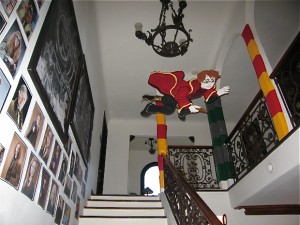 PCN: Hogwarts. I want to eat in the Great Hall, play quidditch (as a beater, of course), hang out in front of the fire in the Gryffindor common room, and just run around the grounds. Scratch that—I'd probably fly on my broomstick since I'm too lazy to run anywhere. I want the whole experience in getting there, too: running through the wall on Platform 9 3/4, the journey on the train, and the boat and carriage rides toward the castle. The closest I got to being teleported was a couple of years ago, when my friend Mari transformed her home into Hogwarts for Thanksgiving.
Q: Tell us one non-book-related thing that everyone reading your blog may not know about you.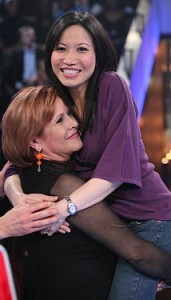 PCN: Many know I'm a huge Star Wars nerd, but I don't think they know I got to meet Princess Leia, Carrie Fisher. No, I didn't jump on her. She surprised me by lifting me right off my feet.
Q: If you could eat dinner with any author or character, who would it be and why?
PCN: [Mr. PCN, skip to the next question] Elvis Cole from Robert Crais's novels. He'd have to cook, at his A-frame house, and we'd eat on his deck overlooking the canyons. Afterward…who knows?
Q: Which is your favorite post that you have written that you want everyone to read?
PCN: The response to my Memorial Day post from two years ago was overwhelmingly kind, so I'll link to that. For something lighter, check out my fake FTC disclosure.
OK, those are my five. I don't want this to be a one-way conversation, so I'd love for you to answer some of these Qs in the comments if you're not a blogger who already did one of these interviews. Even if you're a regular here, I'm sure there are loads of things I don't know about you!
Many thanks to the tireless ABEA team—Emily, Amy, Danielle, Tif, Chris, Pam, Julie, Florinda, and Michelle—for organizing this event!