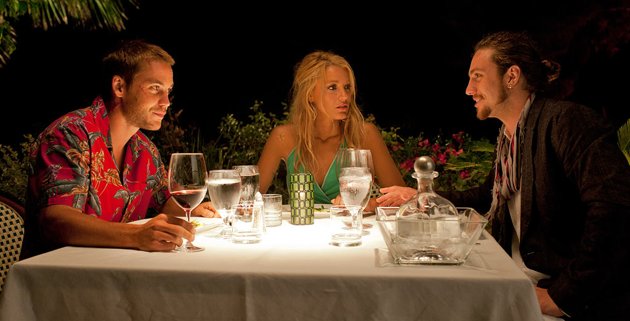 If you've seen Oliver Stone's U-Turn or Natural Born Killers, and/or have read the Don Winslow novel on which this movie is based, Savages is pretty much what you'd expect it to be—violent, in your face, with strong acting, dark humor, and overly saturated sun-soaked images.
Stone's style is a good match for the story of pot growers/dealers Ben (Aaron Johnson) and Chon (Taylor Kitsch), living the high life in Laguna Beach, CA, with their mutual girlfriend O (short for Ophelia, played by Blake Lively). Things get ugly when a Mexican cartel led by the ruthless Elena (Salma Hayek) wants a piece of their business and kidnaps O to make sure the guys cooperate. But instead of rolling over and playing nice, Ben and Chon get mad and risk everything to get O back.
The three leads do an adequate job—Lively is most effective in captivity when her face is scrubbed clean of makeup and she shows her vulnerable side—but they can't hold a candle to the veteran supporting cast. Hayek is fierce as the cartel's leader, and just as convincing as a mother desperately trying to connect with her daughter. Benicio Del Toro seems to have really enjoyed playing Elena's enforcer, Lado, managing to get some laughs despite his character being terrifying (think Javier Bardem's Anton Chiguhr in No Country for Old Men). As a dirty DEA agent, John Travolta sinks his teeth into his role and chews up the scenery, too.
A couple things were less successful. First was the voice-over narration done by Lively in languid, SoCal mode; Winslow's language is snappy and kinetic in the book. The second thing…
**SPOILER AHEAD IF YOU'VE READ THE BOOK; SAFE IF YOU HAVEN'T**
…was the ending was changed. It's still in the movie, but it's not the same. What made the novel memorable were its beginning and ending; the revision here is too safe, taking the claws out of something called Savages. Next to me in the theater, though, was a woman who had not read the book (based on her reactions) and she seemed to prefer the movie's conclusion, so I guess it was altered for viewers like her.
**END OF SPOILER**
Moviegoers attracted to Savages because of Stone and the cast will enjoy a solid thriller. For fans of the novel—Winslow co-wrote the screenplay with Stone and Shane Salerno—it's a kick seeing it on screen until it gets compromised, which is ironic since Ben and Chon are all about not compromising.
Nerd verdict: Faithful Savages 'til the end
Photos: Universal