Couldn't find three hard-hitting openers among the ARCs I received this week, so I thought I'd take a look back at some older favorites. I wanted to feature authors whose work you may not have read but might consider doing so after seeing these.
The Gun Seller by Hugh Laurie (yes, that Hugh Laurie)
Imagine that you have to break someone's arm.

Right or left, doesn't matter. The point is that you have to break it, because if you don't…well, that doesn't matter either. Let's just say bad things will happen if you don't.

Now, my question goes like this: do you break the arm quickly—snap, whoops, sorry, here let me help you with that improvised splint—or do you drag the whole business out for a good eight minutes, every now and then increasing the pressure in the tiniest of increments, until the pain becomes pink and green and hot and cold and altogether howlingly unbearable?

Well exactly. Of course. The right thing to do, the only thing to do, is to get it over with as quickly as possible. Break the arm, ply the brandy, be a good citizen. There can be no other answer.

Unless.
He got you, didn't he? "Unless" what?? This book is hilarious, and I've been waiting for a looooong time for his second novel. The Paper Soldier was supposed to be released years ago, but was indefinitely delayed due to Laurie's busy schedule. Now that House, M.D. is over, maybe he'll have more time for writing.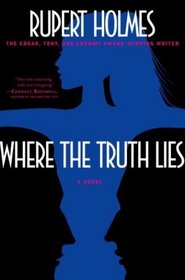 Where the Truth Lies by Rupert Holmes (yes, the Piña Colada man)
In the seventies, I had three unrelated lunches with three different men, each of whom might have done A Terrible Thing. The nature of their varying "things" ranged from obscene to unspeakable to unutterable, and you will surely understand if, as a writer, I was rather hoping that each had. (Done their particular Terrible Thing.)

In the case of my lunch with the first man, I knew by the time he rested his gold Carte Blance card upon the meal's sizable check that my hopes were abundantly justified.
Ignore the fact this book was made into a movie that's not very good (despite Colin Firth's presence). It's a sexy, twisty mystery that made me snap up Holmes's second mystery novel, Swing, which was even better.
Caught Stealing by Charlie Huston
My feet hurt. The nightmare still in my head, I walk across the cold wood floor, shuffling my feet in the light grit. I'm half-drunk and I have to pee. I'm not sure which woke me, the piss or the nightmare.

My john is just a bit smaller than the average port-o-potty. I sit on the pot and rest my forehead against the opposite wall. I have a pee hard-on and if I try to take a leak standing up, I'll end up hosing the whole can. I know this from experience. Plus my feet still hurt.
This opening started my love affair with Huston's work eight years ago. I wanted to know why this guy's feet hurt. Well, his day is about to get much worse, and by the end of this book, his feet aren't the only things that hurt.
What do you think? Interested in any of these? What are you reading? Happy second Friday this week!
[Note about the covers: These are from the first editions I read. The current editions all have different covers but I prefer these.]