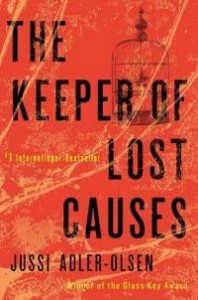 The prologue of Jussi Adler-Olsen's The Keeper of Lost Causes (translated by Tiina Nunnally), the first in the Danish Department Q series, made me think of one of the few Latin phrases I retained from school: in medias res, or in the middle of things. The story starts with a woman trapped in a dark prison, scraping along the walls with bloody fingers, looking for a means of escape. She hurts herself but doesn't scream or cry, refusing to allow her captors the satisfaction.
Cut to Carl Mørck, a homicide detective with the Copenhagen police, returning to work after a bad shootout that left one of his colleagues dead, another paralyzed, and Mørck with a scar from the bullet that grazed his head. He's brilliant but difficult so his boss creates the new Department Q in the basement at headquarters, where Mørck can work on "cases deserving special scrutiny" (translation: high-profile cold cases) and stay away from colleagues who are weary of him. He gets a Syrian assistant named Hafez el-Assad, who seems more eager to go through the old files than Mørck is. Assad finally gets the detective to look into the disappearance of political darling Merete Lynggaard, who was last seen with her mentally handicapped brother, Uffe, on a ferry headed for Berlin five years earlier. Accidental drowning, suicide, and assault were all suspected but her body was never found. The story moves back and forth between 2002 and 2007, revealing Mørck and Assad's progress on the case while showing what really happened to Merete.
Scandinavian thrillers are usually dark and moody, and Keeper is, but it also has wit, warmth, and a winning comic pair in Mørck and Assad. The veteran detective is committed to his grumpiness and inertia; he takes every opportunity to nap and daydream about the attractive police psychologist. Assad is indefatigably cheerful, and can set up a flat-screen TV in under five minutes but is stumped by the copy machine. He's a surprising character, tantalizingly mysterious, and by the time he shows an unexpected dimension toward the end, I was convinced he's one of the most fascinating sidekicks to come along in crime fiction in years.
Adler-Olsen's supporting characters are no less memorable. Merete, whom we get to know in flashbacks, is a victim who refuses to be one. She retains her fighting spirit in the face of unrelenting bleakness, and her deep love for her brother Uffe is touching. On the other side of the table, the villains have believable motives for the horrific things they do. Their reasons don't justify their actions—nothing does—but for a brief moment as they explain everything, I felt an unexpected flash of sympathy for them. When was the last time you felt that for the bad guys? The ending moved me in more ways than one, and made me look forward to spending more time in the basement with Deparment Q.
Nerd verdict: Lost Causes is a keeper