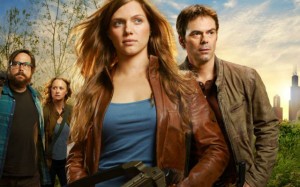 The Jon Favreau-directed, J.J. Abrams-produced Revolution is one of the most highly anticipated new series of the fall season, and the pilot does show some promise, if it didn't completely blow me away. The premise is that one day all electricity turned off in the world, with the reason seemingly known to only one man, Ben Matheson (Tim Guinee). Fifteen years later, his son Danny (Graham Rogers) is kidnapped by soldiers working for General Monroe (David Lyons), and Ben's daughter, Charlie (Tracy Spiridakos), sets out with her bow and arrow to find her uncle Miles (Billy Burke) and hopefully convince him to join her in rescuing her brother.
The blackout in the opening, showing lights going out all over the globe, is eerie. Fifteen years later, life doesn't seem that desolate, though, because Charlie is dressed in hip leather pants and has beautiful flowy hair that looks better than mine after two hours of blow drying and styling. But it's not Spiridakos's fault she's so attractive; she reminds me of a younger Heather Graham and is a likable enough lead. The most interesting actor is Burke, who's in the Han Solo role, a guy who's maybe not always on the side of angels but we know he'll do the right thing when it comes to important stuff. Giancarlo Esposito is appropriately steely as a captain in the Monroe army.
The show has high production values, with behind-the-scenes talent often found on movies (many have worked with Abrams in the past). The premise is intriguing enough to make me want to watch more, but considering what happened with The Event and FlashForward, we'll see how long that lasts.
Nerd verdict: Interesting, but not quite Revolutionary
Revolution premieres tonight on NBC at 10/9c, but you can watch the entire pilot below.