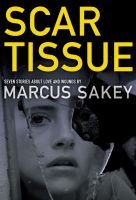 Just a quick note today about something author Marcus Sakey is doing to help fight pediatric cancer. During September, he's donating 100% of the proceeds from his sales of Scar Tissue: Seven Stories of Love and Wounds to the Team Julian Foundation. According to the press release, the organization "was started by the Boivin family in memory of their son Julian, who was diagnosed with an incurable brain tumor at the age of 4." He passed away seven months later.
Marcus's friendship with Julian and his parents predates Marcus's publishing success, which he is using to help raise money for the foundation. Sales of the e-book version of Scar Tissue, which costs only $2.99, can provide funds for continuing research.
For more info about Julian and the foundation, go here. Click here to buy Scar Tissue from Amazon. (I couldn't find a Nook link for it.) After September, Marcus will donate 50% of the proceeds.
Click away, get a book, and help a good cause!