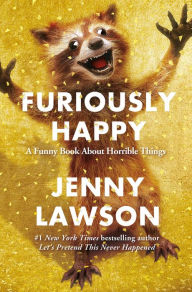 Jenny Lawson, aka The Bloggess, follows up her popular memoir, Let's Pretend This Never Happened, with Furiously Happy, another book of essays about incidents that sound too wacky to be true, but which longtime fans of her writing will recognize as everyday occurrences in her life.
This time around, Lawson also delves into the topic of mental illness, which she struggles with, having suffered depression, panic attacks, anxiety disorders, and a "terrible boxed set" of other disorders and phobias. For those who don't understand, Lawson explains succinctly: "Depression is like…when you don't want cheese anymore. Even though it's cheese."
Several years ago, when she'd had enough of the disease, she embarked on a mission to be furiously happy, and started a trending hashtag and movement of people who wanted to take their lives back from depression.
Despite the serious subject matter, Lawson's sense of humor remains intact. Readers will likely shake with laughter at her escapades, such as encountering inept ninjas trying to break into her hotel room in Japan, receiving the skins of three dead cats in the mail, being chased by killer swans, and her cats stealing her voodoo vagina.
But the stories are most effective when Lawson reveals her most vulnerable self, the one full of fear and feeling that her brain is trying to kill her. In "It Might Be Easier. But It Wouldn't Be Better," she notes that openly discussing her intense suffering has encouraged others to say, "Me too," and that 24 people stopped planning their own suicides when they read the comments on her blog posts. Lawson keeps their letters to her in a folder, and while on tour for her previous book, many fans approached her to say they're number 25.
In the piece entitled "Pretend You're Good at It," Lawson tells about one night in New York City when she can't sleep, is gripped by an anxiety attack, and her foot is bleeding badly from the combination of cold weather and rheumatoid arthritis. When she looks out a window and sees falling snow, she decides to takes a walk in her bare feet and experiences a sense of calm.
On the way back, she notices her footprints: "One side was glistening, small and white. The other was misshapen from my limp and each heel was pooled with spots of bright red blood. It struck me as a metaphor for my life. One side light and magical…. The other side bloodied, stumbling…. It was my life, there in white and red. And I was grateful for it." It could also be a description for this book—half light and humorous, half dark and raw. And fans will be grateful for it.
This review originally appeared in Shelf Awareness Pro and is reprinted here with permission.