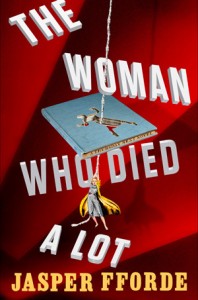 It'll probably be at least another week before I get caught up with my life (trying to finish an editing assignment before I leave for Bouchercon tomorrow), but I wanted to pop in to post a fun giveaway.
Yesterday saw the publication of the new installment in Jasper Fforde's popular Thursday Next series, and the good people at Viking are allowing me to give away one copy.
Check out the official description:
Peppered with illustrations by Dylan Meconis and Bill Mudron, THE WOMAN WHO DIED A LOT takes place over the course of a week in the life of Thursday Next, famous in several dimensions as the Bookworld's leading enforcement officer. After being forced into semiretirement, thanks to an assassination attempt, Thursday takes what was described to her as a "cushy" job as chief librarian at the Swindon All-You-Can-Eat-at-Fatso's-Drink Not Included Library.

Thursday's first week on the job proves to be unusually hectic, even by her high standards. As the library faces 100 percent budget cuts, Thursday struggles to remember why she can't remember that her third child, Jenny, doesn't exist, even though "Jenny is a mindworm" is tattooed on the back of her hand.

At home, things aren't any better: her son Friday faces a loss of purpose after his future career as a time-traveling hero is relegated to "might-have-been" status, and her genius teenage daughter is embroiled in a race against the clock to stop a vengeful god from smiting Swindon at midday Friday. On top of it all, Thursday's nemesis Jack Schitt has returned and is plotting something even more nefarious than usual.
Interested in getting your hands on this? Enter by leaving a comment about the cushiest job you've ever had (or wish you had), something you can't believe someone gets paid to do. Giveaway ends next Wednesday, October 10, at 9 p.m. PST. US residents only. Winners will be randomly selected and have 48 hours after notification to claim the prize.
Have fun! Make up a cushy job if it doesn't exist already!