**SPOILERS AHEAD**
Revenge
Back in May, Revenge had a doozy of a finale so I couldn't wait for tonight's season 2 premiere. I liked it overall, but not happy that Declan and Charlotte are back. Ugh. Declan is still worthless as a character, but at least Charlotte has sobered up and seems to have turned her life around. Her father is determined to keep her locked up in the rehab center so I feel a little sorry for her.
And she was the only one who knew Victoria was alive! I didn't think producers would kill off the show's VIP, but when I didn't see Madeleine Stowe's name in the opening credits, and she was absent in the first few scenes, I started to doubt. Maybe Stowe didn't want to do TV for another year? Perhaps ABC could no longer afford her? When she opened the door to Emily, I yelped with relief.
I like Nolan's new buff bod and shorter hairdo. The douchey, James-Spader-in-the-'80s look from last year didn't cut it for me. He had the best line of the episode, at Victoria's memorial: "You think she's somewhere looking up at us?" I also think it's fun that he and Emily are roommates for now. They could cook up a lot of trouble together. And the whale cam has been replaced by the clam cam!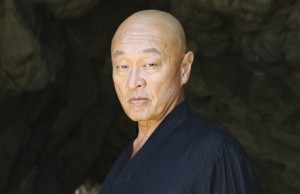 I'm not sure what the deal is with Japanese-speaking British dude, and I got confused when Takeda showed up because I was all, "That's not Takeda. Who are they trying to fool? All Asians don't look alike!" But then I remembered that this is a soap and characters get recast all the time. Apparently Hiroyuki Sanada had scheduling conflicts so Cary-Hiroyuki Tagawa will now play Em's mentor.
Jack is such a mope now, I'm OK with it if that's his body divers find in the opening scene at the bottom of the ocean. Better if it's Declan's, though. Do these characters make the show more interesting at all?
Overall, it was a good opener and I'm on board for season two.
666 Park Avenue
I sampled this show, based on Gabriella Pierce's novel, right after Revenge and thought it was pretty boring. It's not a complete disaster, but it seemed the creative team hadn't figured out in the pilot if the show should be horror or camp. The violinist getting sucked through the door slot in the opening wasn't the least bit scary, but the dead girl in the basement sneaking up on Jane almost made me soil my shorts.
Terry O'Quinn and Vanessa Williams are obviously the show's strongest assets, but Williams didn't have much to do, and O'Quinn didn't stray much from his mysterious, slightly creepy routine. Rachael Taylor is fine, but so far Dave Annable is blander than a sandwich without bacon.
I think the problem right now is that I don't really care about any of these people yet. So what if Louise's Vogue shoot falls apart? She seems too controlling toward her husband, Brian. Do I care if Brian ever gets past the title page of his play? No. Was I supposed to feel something when John Barlow couldn't keep his wife Mary alive? He had no business bringing her back from the dead.
I probably won't watch this again, or not until it decides if it wants to be truly terrifying or campy fun.
Nerd verdict: Vacant Park
Did you watch either of these shows? What did you think? Whose body is on the ocean floor in Revenge? Did you find Park Avenue scary at all?
Photos: VanCamp and Tagawa—Karen Neal/ABC, Rachael Taylor—Patrick Harbron/ABC