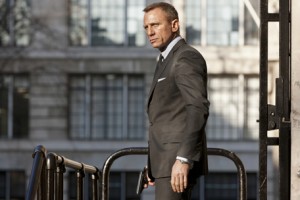 The AFI Fest started last week (wrapping up today) and for the third year, I've been attending as a press member. Last night was the annual "Secret Screening," revealed at the last minute as Skyfall. Guess who fell out of her chair when she read that announcement?
Mr. PCN and I hustled down to Grauman's Chinese Theatre in Hollywood, and following are our reactions to the 23rd James Bond movie, directed by Sam Mendes and starring Daniel Craig, Dame Judi Dench, Javier Bardem, Ralph Fiennes, and Naomie Harris. The spoiler-free plotline is that things get personal for M.
Mr. PCN: I love the title sequence. Reminds me no one else does it like that.
PCN: It was gorgeous and hypnotic. I can't hum Adele's tune, though.
Mr. PCN: As with most Bond movies, the opening action was awesome.
PCN: It was intense. Love how the audience cheered when he first appeared.
Mr. PCN: Craig is wonderful, but he looks a little more beat-up than usual. It makes sense in context of the plot, but was still startling.
PCN: Like you said, he had to look like that, considering all that happens to him in just the first fifteen minutes. Makes him more human. But then he puts on those Tom Ford suits and all is right with the world again. I was obsessed with those suits! They could cut you, they were so sharp. They fit him so well, in silhouette he looked naked.
Mr. PCN: *rolls eyes*
PCN: These are astute observations. Costumes are an important part of cinema.
Mr. PCN: Uh-huh. Moving on to Bardem. It's no surprise he shines as the villain. His performance is flawless, and the flirtation scene between him and Bond is hilarious.
PCN: Bardem is mesmerizing. He's so unpredictable; I could never tell when he was going to smile at someone or kill them. He doesn't overdo the villainy, but instead exudes charm and humor, which makes him even scarier, a la Hannibal Lecter. And his introduction via that one long take in which he does the monologue while walking slowly toward the camera is well done. What's with him and ugly character hairdos, though?
Mr. PCN: Ha! What I want to know is: Why is Bérénice Marlohe getting so much press when her Sévérine is so underwhelming?
PCN: I agree. Naomie Harris, though, is sexy because she's smart and competent.
Mr. PCN: She's more of a driving force. Q is bit of a conundrum. He's not as fun as John Cleese or Desmond Llewelyn. And Q's gotta have fun with Bond and his gadgets.
PCN: And he's not that smart. Makes mistakes, and is kind of slow to realize things that seem obvious to viewers. Not Ben Whishaw's fault, though, more the way the role was written. What did you think of the action sequences?
Mr. PCN: The opening train-and-crane is the best.
PCN: Yeah. Supposedly, most of the stunts were real, not CGI'd. Craig had to fight on a moving train, tethered to a safety line, and told not to look down.
Mr. PCN: Komodo dragon was good, too. Short and snappy.
PCN: The Shanghai fight was nicely shot, against the neon lights and shadows.
Mr. PCN: But it was kind of confusing.
PCN: Yes! I wish some of the fights were filmed in two-shots so we could see the choreography more. As is, there are a lot of fast cuts and closeups. I couldn't see the moves or tell what was going on sometimes.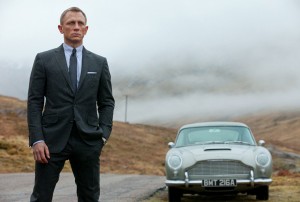 Mr. PCN: I enjoyed the nods to early Bond films, like the Aston Martin DB5.
PCN: With the original plate from Goldfinger! And when Q gives Bond simple gadgets and says, "Were you expecting an exploding pen? We don't really go in for that anymore."
Mr. PCN: I don't think this breaks any new ground, but harkens back to vintage Bond.
PCN: I think it's both old and new. Several important elements were reinvented, but with reverence to what's gone before.
Verdicts: Mr. PCN—Skyfall floats, but doesn't rise; PCN–Skyfall's a solid soldier
Note: Besides the AFI Fest, the Variety Screening Series has also begun. Check back soon for reviews of Anna Karenina, Hitchcock, Silver Linings Playbook, and Life of Pi.
Photos: Francois Duhamel/Columbia Pictures