Full disclosure: I dislike musicals. I know Victor Hugo's story, and liked the 1978 Les Miserables movie with Anthony Perkins as Javert and Richard Jordan as Jean Valjean, but the one time I saw the musical live, I fell asleep. I sat way in the back and was emotionally and literally distanced from what was unfolding on stage.
But I enjoyed Tom Hooper's film version and didn't sleep a wink. The director makes everything more intimate with close-ups, pulling me into the story more. I even dropped tears into my bag of popcorn during a couple of scenes.
The movie opens with an unrecognizable Hugh Jackman, eyes bugging from his emaciated face, as Jean Valjean aka prisoner #24601, who's wrapping up a 19-year sentence for stealing a loaf of bread for his nephew and trying to escape prison multiple times. After his release, he seeks redemption following a bishop's act of kindness toward him, becomes mayor of a French town, takes in a prostitute's young daughter to raise as his own, all while being hunted across miles and decades by the police inspector Javert. The story is too long to summarize here so please Google it if you need more details.
I'm glad Hooper had his actors sing live instead of lip sync over prerecorded vocals because it made the songs more emotional and believable. I've often rolled my eyes when watching someone produce perfect vocals while crying. Ever tried doing that, when your throat is closing up? That's why I appreciated hearing the gasps, sighs, and sobs in the live performances here.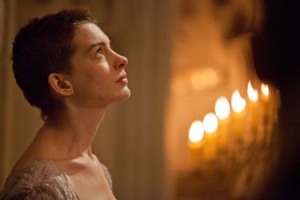 Jackman has a formidable voice and is a perfect Valjean, displaying talents not previously captured on the big screen. Hathaway makes Fantine's suffering startlingly raw, and sings "I Dreamed a Dream" in one long take with no cutaways, just the camera lingering on her naked face. Her performance made me weep.
Eddie Redmayne and Samantha Barks, in her film debut, are fine as Marius and Eponine, respectively. Amanda Seyfried looks beautiful as the older Cosette (Isabelle Allen plays the younger version) but is overshadowed by the stronger performances. Russell Crowe seems detached, his Javert is one note, and his singing voice sounded strained, not a good match for musical-theater-style songs.
Some of the issues I had with this movie are ones I have with musicals in general: The songs make everything too on the nose. Sometimes intentions and feelings can be expressed with just a subtle look or simple line, but actors in musicals are required to burst into song and spell out everything they are feeling. The internal monologue is made external when the audience already understands the message. Valjean spends five minutes singing "Who Am I?" when it's already clear he's conflicted about letting an innocent man go to prison in his stead. He spends another three minutes (all times are estimates) belting out "Bring Him Home" when no one doubts that Valjean would really like Marius to survive the revolution. The result is a movie that's over two and a half hours long, when it could've been maybe thirty minutes shorter if some of the songs were trimmed. Fans of the stage show, however, may have no problem with the length.
Notes from Q&A with Tom Hooper and Cast Members
After the movie, presented by the L.A. Times Envelope Screening Series and Epix HD, Hooper, Jackman, Hathaway, Seyfried, and Redmayne came out to answer questions from the Times' Nicole Sperling. Among the highlights:
Hooper said he went from directing a movie in which the protagonist couldn't speak (The King's Speech) to one in which characters only sing to each other. "I don't know what my problem is with just chatting."
Jackman said he "stalked Tom" the minute he heard Hooper was attached, and auditioned for his role like everyone else. Despite his enthusiasm and desire to play Valjean, once he got the part he became scared that he wouldn't live up to his and others' expectations. To get his gaunt look at the beginning of the movie, he didn't drink any water or liquids for 36 hours. He doesn't advise anyone try that at home because side effects were unhealthy.
The cast had 9 weeks of rehearsal, during which Hathaway went full throttle to build up her stamina, and then feared she had "shot her wad" and wouldn't have anything left once cameras started rolling. She and the others admitted to a collective fear that their performances wouldn't be up to par, and this anxiety lasted throughout production.
Hooper said because sometimes singers contort their faces when reaching for high notes, the actors had to train for months in belting out songs while keeping their faces relaxed "so that the close-up wouldn't be an unpleasant place to be." They also had to learn to hold pitch while crying. [Hathaway passed these tests on "Dream."]
Hathaway said the most significant change for her from stage to movie version was the placement of "Dream." On stage, it happens after Fantine has only lost her job at the factory, but in the movie, the number comes after Fantine becomes a prostitute. This change allowed Hathaway to get more emotional during the song; it would've felt indulgent getting too distraught before things got really bad for Fantine.
While on set of another movie, Redmayne recorded himself on his iPhone singing "Empty Chairs at Empty Tables," and sent it to his agents to simply let them know he could sing and express his interest in Les Mis. His reps sent the clip on to Eric Fellner, the head of Working Title Films. Redmayne said if he had known, he wouldn't have recorded himself while dressed as a cowboy meth-addict pedophile, his character in the movie he was shooting.
Jackman said among the actors playing Marius's fellow students in the revolution, "fifteen had played Marius on stage, and two were currently playing Marius" during the shoot. Nevertheless, Redmayne put his stamp on the role, and Jackman believes "it's the most affecting [Marius portrayal] I've ever seen."
When asked which role in Les Mis beside their own they'd like to play, Seyfried said Fantine, while Jackman and Hathaway both said Javert. Jackman shared a story about his first musical theater audition in Australia, when he sang Javert's "Stars" because it was the only piece for which he had sheet music. One of the people in the room told Jackman to put it away because he'd never get to sing it.
Nerd verdict: Long, but more enjoyable than miserable
Photos: Universal Pictures