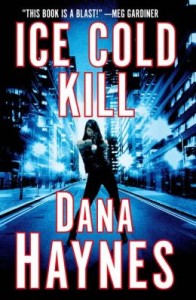 Yesterday, I sent a note to crime author Meg Gardiner, thanking her for vetting a book for me. I receive lots of ARCs for review consideration and sometimes I'm so overwhelmed, I don't know what to read first, or even read at all.
But when I saw Meg's blurb on the cover of Dana Haynes's Ice Cold Kill (out March 26), I thought I'd give that book a try. I don't blindly believe in blurbs, but I've read Meg's work and been lucky enough to spend time with her at Bouchercon, so I know she's a whip-smart, discerning person who doesn't suffer morons or, I assume, moronic writing. And so far, I'm enjoying Kill.
So I thanked Meg for helping with this choice, because sometimes even synopses don't do anything for me except make my eyes roll backward into my mouth. When I told Meg this, she responded, "Now there's a blurb: 'Won't make you choke on your eyeballs!'" I thought, That would definitely make me read a book.
Then I started thinking about how boring most blurbs are, how they often resemble each other and become useless noise. So I came up with the following blurbs that would get me to read something:
"Takes you on the kind of ride that gets you thrown into a Mexican jail!"

"Scarier than a clown exorcist!"

"Blows your mind like a hooker who likes brains!"

"More exciting than whatever you're doing, unless you're playing with chickens!"

"Like an EpiPen to your heart…after a triple espresso!"

"You couldn't handle this book!" (reverse psychology)

"Better than the book by that guy you read that one time!"

"It will kick your teeth in, gouge out your eyes, pull out your guts, and jump rope with them!"
Would these work for you? Want to add your own blurbs in the comments? Does anyone want me to endorse your book?