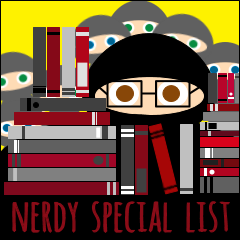 Every month, I eagerly await my contributors' submissions for the NSL; I love seeing what new releases they found outstanding. For the first time, a nonfiction title made the list, and we have a new blogger joining us!
Rory from Fourth Street Review doesn't just review books, she provides pictures and links to recipes of dishes or drinks that somehow tie in with the novels. Reading her blog often makes me hungry and thirsty. One small glimpse of her home library and you might also want to push her down the stairs. Her March recommendation is below, but first, we have two from:
Jen at Jen's Book Thoughts:
Biography

The Secretary: A Journey with Hillary Clinton from Beirut to the Heart of American Power by Kim Ghattas (Henry Holt, March 5)

This book is an inside look at Hillary Rodham Clinton during her term as Secretary of State. Kim Ghattas brings a special perspective because she grew up in war-torn Beirut. She can see Clinton through the eyes of outsiders, but as a member of her press corps, Ghattas also sees the secretary through the eyes of insiders. The Secretary enlightens readers to the enormous job Clinton faced in rehabbing the US image to the world. She pursued the job with gusto and  patriotism. While the global politics may at times seem overwhelming, Ghattas provides CliffsNotes versions so that certain issues' background doesn't interfere with the reader's comprehension. 

One of my favorite quotes from the book is: "Just as they had expected her to be a prima donna in the Senate, so too people at the State Department were bracing for a diva. Instead, she was the one pouring the coffee." I think this sums up so much. This book debunks many negative myths about who Clinton is. Above all, she is a determined woman who believes in the potential of our country. This was a rejuvenating read for me as a citizen.

Crime fiction

The Guilty One by Lisa Ballantyne (William Morrow, March 19)

In this legal thriller set in London, Daniel Hunter is a solicitor who takes on the case of an eleven-year-old boy accused of brutally killing his eight-year-old neighbor. Hunter believes that whether his client is guilty or not, the English legal system's answer of locking the boy up in prison would not help anyone. He sets out to do all he can for his client, while battling with his own sordid past. Once a troubled youth caught in the foster system, Hunter could have been this boy he is defending.


The Guilty One is an engrossing psychological puzzle steeped in weighty issues like childhood crime and a system that fails its children. The characters are empathetic and authentic. I wanted to apply to adopt as I read through the saga of Hunter's life. At about 450 pages, I flew through the story in two sittings. I just couldn't make myself put the book down.
From Danielle at There's a Book:
Picture book

I Dare You Not to Yawn by Helene Boudreau, illustrated by Serge Bloch (Candlewick Press, March 12)

This fun book is perfect to get kids giggling and yawning just before bed. Featuring Bloch's brilliant illustrations and Boudreau's intuitive text, this story of a little boy doing his best to not yawn so he could avoid bedtime has quickly become a favorite nighttime read for both kiddos and Mom.
YA

The Murmurings by Carly Anne West (Simon Pulse, March 5)

Creepy, intriguing, frightening and filled with mystery to the very last page. Nell's death left Sophie with nothing but questions, and now she's determined to discover the secrets behind her loss. But Sophie's search may lead to more than she bargained for. Being a fan of horror and mystery, I couldn't wait to read this and I wasn't disappointed. It has a great leading character and is perfect for readers who love their reading a little on the darker side.
From Rory at Fourth Street Review: 
Double Feature by Owen King (Scribner, March 19)

Sam Dolan has every intention of being a serious filmmaker, but a culmination of events involving a disturbed fellow student; a wild, luck-draining night with two women; and a larger-than-life father derail his ambitions. Spanning decades, Double Feature examines what it means to lose everything—dignity, respect, inspiration, ambition—and begin again. Fans of Richard Russo and Chad Harbach will adore this fantastic debut novel. A bit of a black comedy, it's full of wit, charm, and a perceptive look at what makes life worth living.
PCN's recommendation: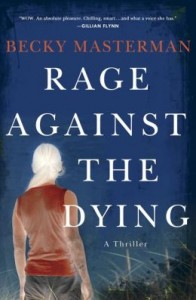 Rage Against the Dying by Becky Masterman (Minotaur, March 26)
The prologue, told from the POV of a killer preying on older women, is extremely unsettling, until the killer—and we—realize he's just picked the wrong victim. She's Brigid Quinn, a 59-year-old retired FBI agent who may have some white hair and hip problems, but knows how to use her gun and walking stick to deadly effect. There is nothing cute or coy about her; she's seen and done things that would give you and me nightmares. My full review will appear in Shelf Awareness for Readers later this month. For now I'll just predict that crime fiction fans will hear some noise about Brigid Quinn and Becky Masterman this spring.
What new releases are you looking forward to this month? Any of these sound good?