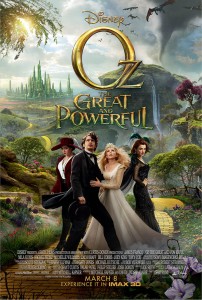 I last saw The Wizard of Oz many, many years ago and don't remember specifics. I've seen it maybe twice in my life and it's not on my list of all-time favorites or anything. This is my way of saying I approached this prequel with an open mind and didn't compare it to the classic.
Perhaps that's why I didn't find it offensive, and even liked some aspects of it, but it's definitely a Disney movie that's too cutesy at times, instead of an edgy revisit to the Oz chronicles that some may have expected from director Sam Raimi.
James Franco plays Oscar (get it?), a low-rent magician at a Kansas carnival in 1905, seducing his assistant and anything in a skirt. He's bound to run into an angry boyfriend or two, but when one of the jealous guys happens to be the carnival's strong man, Oz escapes by jumping into a hot air balloon.
He lands in a magical, vividly colored world called Oz (the film is in black and white up to this point), and is greeted by a beautiful witch named Theodora (Mila Kunis). She tells him that because of a prophecy, Oz has been waiting for him to come rescue the land from an evil witch.
Oscar isn't interested in being the savior of anything, until Theodora's sister (Rachel Weisz) shows him all the gold that could be his if he accepts the challenge. He may be motivated by greed at first, but along the way, with the help of his friends—Finley the talking monkey (voiced by Zach Braff), China Doll (voiced by Joey King), and the good witch, Glinda (Michelle Williams)—he learns he could use his con-man skills for a selfless cause after all.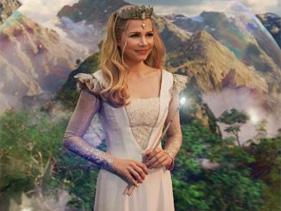 There are nods to the classic movie, such as Glinda flying inside a bubble (which is clear, not pink), Munchkins, and flying monkeys. And of course, Glinda and the Wicked Witch. It's hard making a purely good person interesting, but Williams, while not required to flex all the skills in her arsenal, glows with decency and grace.
None of the talented actors are operating at full capacity here, which is not their fault because the writing doesn't support them. And though Oscar starts out as a cheat and liar, he turns into the hero, something that's not a good fit for Franco, who seems more comfortable in oddball roles.
It's clear lots of money was spent on the production, and some of the visuals might make you feel like a kid watching fireworks at Disneyland (I saw the 2D version; it might look even better in 3D). But fireworks last only for a short time. At over two hours, this road to Oz is long and winding.
Nerd verdict: Oz not Great, just OK
Photo: Walt Disney Studios