I woke up to such exciting news today, I thought, "Beware the ides, my foot (I actually named another body part). This is a HAPPY day!" I was so thrilled, I got out of bed at 8:30!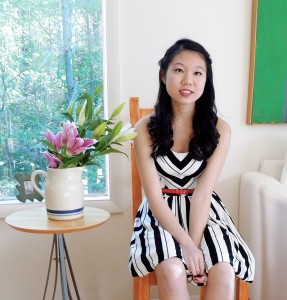 The big news? My niece, Aline, won the Gold Medal in poetry in the Scholastic Arts & Writing Awards. This ninety-year-old award has quite a legacy, and previous winners include Truman Capote and Joyce Carol Oates.
Weeks ago, Aline won the Gold Key, which is the regional award, but we only found out this morning that she won the Gold Medal, the national award, naming her poem "Immigrant" among "the most outstanding works in the nation," which means she'll be going to New York City in May to accept her award at a formal ceremony at Carnegie Hall.
It doesn't stop there. Her win makes her eligible to be appointed by a White House (!) committee as a National Student Poet, a kind of "literary ambassador." Five will be chosen every year as part of the National Student Poets program, in collaboration with the President's Committee on the Arts and Humanities.
According to this Education Week blog post, National Student Poets will serve for a year, "support Library of Congress and U.S. Department of Education work related to poetry, and they will undertake a project to encourage the appreciation of poetry and highlight the importance of creative expression and literacy. They will organize and appear at poetry readings and workshops in their regions of the country, hopefully inspiring their peers to find, follow, or build on their literary interests."
I have read Aline's winning poem and it is breathtaking. I wish I could run it here but I can't because it's being published in an anthology called Raw Feet, which consists of Gold Key-winning entries from the DC area. She is a published poet. She is fourteen.
None of Aline's accomplishments is surprising to me. She started reading when she was 3.5 years old, writing fiction when she was five. I've kept her short stories and dinosaur screenplay.
Even then, her writing was not only brimming with intelligence and creativity and wit, but it was perfect in spelling and grammar and punctuation. As an editor, I couldn't have been prouder. If you're a longtime PCN reader, you've probably seen her insightful guest reviews, like this one when she was 12.
The cool thing is that Aline doesn't brag about any of this. She downplays it, and doesn't even tell her friends, not wanting to bring attention to herself. She doesn't know I'm writing this post and I won't tell her. This is for me. I'm bursting with pride and had to put it somewhere.
My friends and I often have conversations about encouraging kids to read, for it will take them places.
I present to you Aline, exhibit A.