This review originally appeared in Shelf Awareness for Readers and is reprinted here with permission.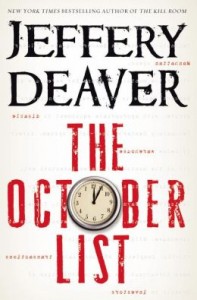 In the foreword to The October List (or is it the afterword, since it's at the back of the book?), Jeffery Deaver explains that he got the idea to tell his thriller story backward after hearing Stephen Sondheim discuss the musical Merrily We Roll Along, which unfolds in reverse order. (Other inspirations he cites include the movie Memento and a Seinfeldepisode titled "Betrayal," both told in a "fractured time line.")
The novel begins with the last chapter, as a woman named Gabriela sits in a Manhattan apartment on a Sunday, awaiting news from people who have gone to negotiate with a kidnapper for her daughter's release. The kidnapper apparently wants something called the October List, plus half a million dollars, in exchange for Gabriela's child. Someone bursts through the apartment's front door, but it's not the person Gabriela is expecting, and the chapter ends with her seemingly in even worse trouble.
Each chapter that follows takes place a few minutes or hours before the preceding one, going back to the previous Friday morning. Even the pages are numbered in reverse order, with the title page at the end. Some of the sentences are clunky but the premise is clever, and Deaver's ability to execute it successfully makes this experimental novel even more impressive. Revealing the ending first, he still manages to surprise with a few twists, constantly challenging readers' understanding of the story. Read it backward, forward, once or twice, to see how all the pieces fit together—just be sure to chase down this List yourself.
Nerd verdict: Put October on your reading List