For the past few years, I've been making up sentences for a fun meme in which you tell others about yourself using only titles of books you've read during the current calendar year. I first saw the idea in 2009 at Reactions to Reading, and have been providing my own sentences every year since.
As usual, I come up with the sentence starters before perusing my list of eligible titles so that I don't tailor the sentences to the titles. If you'd like to play along, either post your answers in the comments or leave a link to the answers on your blog.
Here's how my life is going this year.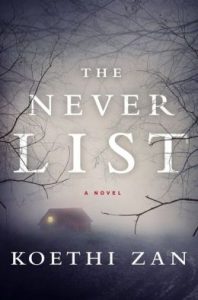 My to-do list looks like: The Never List (Koethi Zan)
If a peeping Tom peeked into my bedroom, he'd: Never Go Back (Lee Child)
If Martians meet me, they'd think: The Curiosity (Stephan Kiernan)
My doctor is always telling me: Let's Explore Diabetes (David Sedaris)
The weirdest thing that happened this past week: The Woman Before Me [at the supermarket] (Ruth Dugdall)
I often daydream about: [being] Unleashed (David Rosenfelt)
The government shutdown makes me: The Enraged (Brett Battles)
If I win the lottery, I'd: [have] A Hundred Summers (Beatriz Williams)
My superpower is: [always having] The Last Word (Lisa Lutz)
I knew I was a book lover when: Six Years [old] (Harlan Coben)
And because my five-year blogoversary was earlier this month…
My blogging experience has been: Not Dead Yet (Peter James)
Thank you for reading PCN and helping to keep it alive! Now it's your turn to share your life according to books!
See previous My Life According to Books posts here, here, and here.