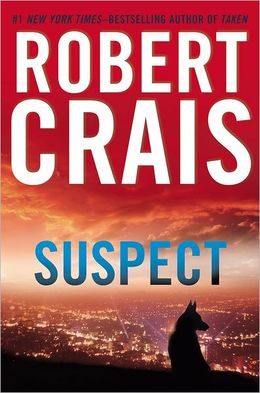 Hello, dear PCN readers, are you still there?
In case anyone noticed, I have been away for a while, not just from this blog but from home. I spent the last 6 weeks of 2013 on the East Coast visiting different family members, eating extremely well (my daddy can cook!), but also freezing my buns off, which counteracted any weight gain from aforementioned delicious food.
While traveling, I stayed away from blogging and almost all social media activity, and found myself not missing it at all. I loved the real life that was happening: face-to-face conversations, laughter over late-night coffee in my parents' kitchen, birthday celebrations, actual hugs, and snuggling with my cute-beyond-words niece/goddaughter. But I can't mooch free food off relatives forever, and my toes threatened to fall off due to frostbite, so it's back home and back to business.
I'm starting off the year with a giveaway of one of my favorite books from last year, Suspect by Robert Crais. The paperback was released this past Tuesday, and the kind folks at Berkley are allowing me to give away two copies of the paperback to PCN readers. Enter by leaving a comment below, telling me something you suspect will happen for you this year. As usual, lies are accepted; this rule is simply to make comments/entries interesting.
Giveaway ends Friday, January 17, 9 p.m. PST. Winners will be randomly selected and have 48 hours to claim prize before alternate winners are chosen. US addresses only, please. Good luck!