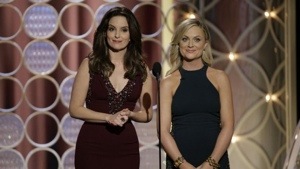 I enjoy the Golden Globes every year because it's the first show of the season so awards fatigue hasn't set in yet, and because the stars can eat and drink there, crazy things happen.
Jacqueline Bisset provided the night's first bit of wacky business, with an incoherent, rambling speech after she won best actress in a miniseries for Dancing on the Edge. She took really long pauses, let expletives fly, and completely ignored the band trying to play her off by continuing way past her allotted time.
Bisset said she couldn't believe she'd won so perhaps she was simply unprepared to make a speech. There were a few other surprises, including Matthew McConnaughey for best dramatic movie actor (Dallas Buyers Club), Amy Adams (American Hustle) triumphing over Meryl Streep in the best comedy movie actress category, Robin Wright for best dramatic TV actress (House of Cards), Amy Poehler finally winning best TV comedy actress (Parks and Recreation), Andy Samberg for best comedic TV actor (Brooklyn Nine-Nine), and Samberg's series winning for best TV comedy.
The more predictable winners included 12 Years a Slave for best dramatic movie, American Hustle for best comedy movie, Jared Leto for best supporting movie actor for Dallas Buyers Club, and Cate Blanchett for best dramatic movie actress for Blue Jasmine. She's unstoppable at this point on her way to the Oscar. Here's a complete list of winners.
Tina Fey and Poehler were fun hosts, as expected. I think their best joke of the evening had to be:
**Gravity spoiler alert!**
"It's the story of how George Clooney would rather float away and die than spend another minute with a woman his own age."
**End spoiler**
You can read some of their other jokes here.
What I really want to discuss, though, is the fashion. And since Mr. PCN has proven to be popular with his commentary in the past, I asked him to once again chime in with his opinions on this year's red carpet.
Mr. PCN: I've got nothing bad to say about her. Ever.
Mr. PCN: It looks like the red carpet swallowed her legs.
PCN: Sexy and slashy. I think Wolverine just gave her a bear hug.
Mr. PCN: She looks like one of those rocket popsicles we used to eat when we were kids. Wait, rocket—and her movie was named Gravity. Coincidence?
Mr. PCN: For Halloween, I used to make ghosts out of tissue paper and rubber bands when I was in elementary school. They never turned out well and neither did this dress.
Mr. PCN: She shouldn't be walking the red carpet in this. More like the walk of shame.
(Long pause, so I prompt him.)
PCN: The color is bright, right?
Mr. PCN: And that's about the only nice thing you can say about this. Next.
Mr. PCN: When she's done with acting, she can go back to the secretarial pool.
PCN: Velour done right…
PCN:…and when it turns bad.
PCN: It looks like she fell into her kid's arts and crafts project and didn't brush herself off.
My friend Dan (who was also at the viewing party): Or she fell down at [the arts supply store] Michael's.
PCN: She needs a transformation spell to turn this into something attractive.
Mr. PCN: The outfit that should not be named.
And finally, my favorite gown of the evening, hands down:
Perfection.
Which were your favorites?
Photos: Getty images