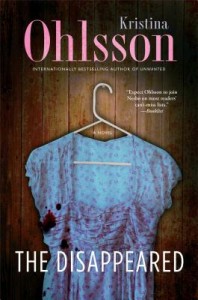 This review originally appeared in Shelf Awareness for Readers and is reprinted here with permission.
The opening of Kristina Ohlsson's The Disappeared is one of the most disturbing in recent memory. An unnamed woman watches an old film clip of another woman being hacked to death. Is it fake, or a real snuff film?
The tension doesn't let up as Stockholm police discover dismembered body parts, later identified as belonging to Rebecca Trolle, a literature student who went missing two years earlier. Inspector Alex Recht and his team, which includes analyst Fredrika Bergman, discover that at the time of Rebecca's death, she was obsessed with the topic of her dissertation—a former beloved children's book author who went to prison for murdering her ex-lover. Rebecca was convinced of the author's innocence and may have stumbled upon information proving her theory.
While working the difficult case, the investigative team is also grappling with personal conflicts. Alex, still mourning his dead wife, finds himself attracted to Rebecca's grieving mother. Fredrika, who has just given birth, suspects her partner Spencer, a literature professor, is hiding something when he suddenly takes paternity leave. She becomes more alarmed when his name surfaces in relation to Rebecca.
The Disappeared is the third novel in a series (following Unwanted and Silenced), and though some recurring characters' backstories aren't fully explained here, the protagonists are well defined and this enthralling case stands on its own. The complex plot keeps readers in the dark with a sense of dread, but the unsettling aspects are balanced by the investigators' persistence in the face of depravity, their determination to not let humanity disappear.
Nerd verdict: Creepy, engrossing Swedish thriller