Gah, the first week of March is gone already? This list is a bit late because I worked on the Oscars most of last week (see picture below) and needed to do some major catching up on other business this week. It's also why I didn't get a post-show fashion commentary up (thanks, Laura and Lauren, for asking about it!).
Without further ado, let's get to this month's recommendations.
From Jen's Book Thoughts:
Roosevelt's Beast by Louis Bayard (Henry Holt and Co., March 18, 2014)

Roosevelt's Beast is the newest adventure from Louis Bayard. Re-imagining the expedition that Theodore and Kermit Roosevelt took down the River of Doubt in South America, Bayard lets his splendid imagination and stunning mastery of language create a magical, horrifying, amazing fictional account of this world for his readers. The voices he supplies to Teddy and Kermit are at once entertainingly funny and complexly authentic.

Bayard takes the reality of the dangers that existed on the actual exploration and magnifies them with a kidnapping and a vicious beast to create suspense and excitement. Meanwhile, he explores the interactions between father and son, between explorer and native, between man and nature. This book is steeped in rich layers that demand multiple readings to fully grasp its complete essence, and I'm certain each subsequent reading will be as good or better than the one before.
From Julie at Girls Just Reading:
The Accident by Chris Pavone (Crown, March 11)

I haven't yet read Pavone's The Expats but after reading this one, that has moved way further up in my pile. The Accident takes place in a high-octane, 24-hour period, spanning from the US to Europe. Pavone leaves no string unattached and there are no plot devices. The mystery is a solid puzzle and keeps you guessing until the end, when the puzzle is put together for the full picture. It might leave you wondering how you didn't see it coming. For thriller and espionage fans, this is not one to miss.

Fallen Beauty by Erika Robuck (NAL Trade, March 4)

Robuck is quickly becoming one of my go-to authors for historical fiction, specifically ones that fictionalize a literary icon. In Fallen Beauty, she takes on Edna St. Vincent Millay and her eccentricities.  We are also introduced to Laura Kelly, who is ostracized by her town for making a wrong choice. This novel is as much Laura's story as it is Millay's, and how Laura's and Millay's stories entwine is what makes both of them more relatable. Millay shows Laura how to break down walls, while Laura shows Millay that there are all kinds of connections in the world.
From Rory at Fourth Street Review:
Shotgun Lovesongs by Nickolas Butler (Thomas Dunne Books, March 11)

In a modern day coming-of-age story, four friends who grew up in a tiny Wisconsin town find themselves inexplicably drawn back to their roots. A farmer, a musician, a broker, and a bull rider come together again in the town of Little Wing—for better or for worse. Shotgun Lovesongs is quiet and comforting, exploring the intricacies of life, love, and friendship as the men try to find their own place within their own reality. It's the type of story that leaves one warm and fuzzy, nodding along with Butler's brilliant prose. It's as much a love letter to the Midwest as it is the story of true friendship, although it was clearly written before this Midwestern winter. (Read Rory's full review here.)
From PCN:
Watching You by Michael Robotham (Mulholland Books, March 11)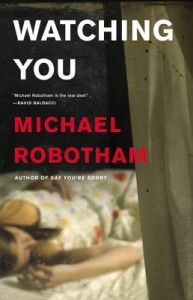 Robotham's series featuring Joseph O'Loughlin, the psychologist with Parkinson's, has always been solid, but Watching You may have pushed it to new heights. Someone is stalking the protagonist Marnie, whose journalist husband disappeared over a year ago and she's being forced to do unmentionable things to pay off his debts.
People who cross her, however, have a penchant for turning up dead, while Marnie seems to have blackouts, for which she seeks out her neighbor, O'Loughlin, for help. Is Marnie a killer, is she being framed, or is there another explanation altogether? I guessed what the big revelation was, but it only made the story creepier. If you've never read Robotham, start now and you'll probably want to look up his entire backlist, which Mulholland is conveniently rereleasing in the next two months.
Any of these sound good to you? (See previous Nerdy Special Lists here.)
I'll leave you with this pic, the only one I was allowed to take at the Dolby Theatre on Oscars day after wrapping up work. Happy weekend!