It's Monday—are you grumpy and dragging your feet after the fabulous weekend you had? How about I cheer you up a little with the list of May releases my fellow book bloggers and I recommend? These books made us happy and we're excited to share them with you.
From Jen of Jen's Book Thoughts:
Talk by Michael Smerconish (Cider Mill Press, May 6)

Talk

is a political satire featuring Stan Powers, a conservative radio talk show host. Stan takes an extremist voice on air but doesn't believe in what he promotes. He knows that taking on this persona will make him wealthy and lead to national syndication; he's willing to shun his own beliefs for success. It isn't until a bizarre chain of events leads to a shake-up in the presidential election, a shake-up that positions Stan—the conservative voice of the I-4 Corridor in Florida—to have more power than he ever imagined possible. His chance for national syndication is in his grasp if he's willing to play dirty with the political big boys.

Stan aside, Talk has a moderate voice. Smerconish satirizes the entire US political system, its opposition to compromise, and the absurd power the modern media has over the system. Talk is at once humorous and terrifyingly bleak. It's eye-opening, logical, and a definite must-read for any American, especially those who feel their votes don't matter. This is the most powerful book I've read this year.
From Rory at Fourth Street Review:
Bellweather Rhapsody (Houghton Mifflin Harcourt, May 13)

Kate Racculia's sophomore novel is a clever murder mystery masquerading as a coming-of-age tale. Alice and Betram "Rabbit" Hatmaker are musically talented twins—Alice is a gifted singer and Rabbit is an equally talented bassoonist. They are competing at a prestigious music festival at a formerly prestigious hotel. Fifteen years earlier, there was a gruesome murder-suicide in Room 712. This happens to be the room Alice is assigned. Let the tale of music, murder, and haunting begin.

Bellweather Rhapsody is easily the most delightful novel I've read this year. While murder-suicide, angst-ridden melodramatic teenagers, and ghosts may sound a bit dark, Racculia's dry wit and wonderful characters make this book—a cross between The Shining (the book) and Camp (the movie)—a must read. You needn't have been a band geek to enjoy, although (confession!) I was.
From Florinda at The 3 R's Blog:
The Possibilities by Kaui Hart Hemmings (Simon & Schuster, May 13)

Hemmings's second novel strongly resembles her first, The Descendants, but relocated from Hawaii to Colorado, and this is not a bad thing at all. Told from the perspective of Sarah, a single mother who recently lost her 22-year-old son in an accident but is still being surprised by him, Hemmings's exploration of family, grief, and moving on is filled with character interactions and dialogue that feel true to prickly, complicated life. Sarah's life has taken a turn every parent fears; while her situation is less than appealing, her struggles with it are relatable and engagingly messy.
From PCN:
The Three by Sarah Lotz (Little, Brown, May 20)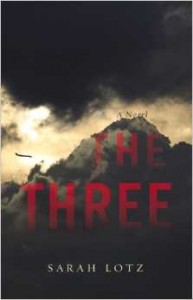 One day, four different planes crash in different parts of the world, and the world goes insane with conspiracy theories. The frenzy only intensifies when investigators discover three survivors, all children, who start behaving oddly. This novel is presented as a nonfiction book written by a journalist named Elspeth Martins, who tries to sift through the hysteria and present the facts so readers can come to their own conclusions about what happened. The Three defies categorization, with its sci-fi, mystery, horror, and epistolary elements, and in the wake of the still-missing Malaysia Airlines Flight 370, it coincidentally and eerily evokes current events. (I'll have a full review of this and an interview with Sarah later this month in Shelf Awareness for Readers.)
Which of these look good to you? What are you looking forward to reading this month? (Check out past Nerdy recommendations here.)