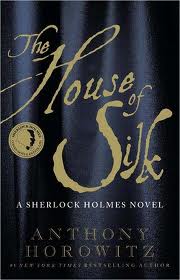 First, I have to mention the gorgeous cover, which this picture doesn't fully depict. The gold letters are raised against a rich, deep navy background resembling curtains, which, taken with the "silk" in the title, evoke a sense of luxury. It begs readers to peek behind it to see what treasures lie within. What I found was a treat indeed, but I also realized that the title and cover art are ironic in a devastating way.
The adventure, set in 1890, begins inauspiciously enough with an art dealer, Edmund Carstairs, contacting Sherlock Holmes to say he believes he's being stalked by a thug wearing a flat cap who has followed him from America. Carstairs believes the man plans to do him harm. Holmes brings in the Baker Street Irregulars, a group of street urchins, to help. Things go awry, dead bodies start to appear, and the case turns out to be much more sinister and far-reaching than either Holmes or Watson could have imagined.
Anthony Horowitz has done something clever. This being the first Holmes novel the Arthur Conan Doyle estate has ever commissioned, the author decided to make it darker than any story in the official canon. It neatly explains why it's coming to light now—it's so disturbing, Watson left instructions saying it could only be published a hundred years after his death—while also making it contemporary, because the subject matter is not something Conan Doyle could have written about in his day.
Horowitz captures Watson's narrative voice quite well, throwing in lots of familiar elements ("When you have eliminated the impossible…") and characters—Mrs. Hudson, Mycroft, the Irregulars, Inspector Lestrade (painted in a more benevolent light here), and perhaps even a certain professor. The author has created not just one but two mysteries, both compelling, and then weaves them together in a way that seems effortless and as smooth as, well, silk. This is a must-read for hardcore fans, while also being an elegant introduction to those calling at 221B Baker Street for the first time.
Nerd verdict: House of thrills
Buy it now from Amazon
| Buy it from an indie bookstore