This review originally appeared in Shelf Awareness for Readers and is reprinted here with permission.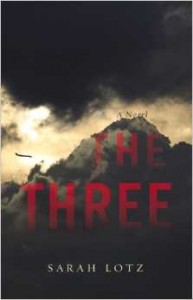 South African author Sarah Lotz's The Three begins on January 12 in 2012—later known as Black Thursday—when four airplanes crash in four different parts of the world, leaving only one child alive from each flight, except for the one that crashes in Africa. The survivors are dubbed The Three in the media, which goes wild with conspiracy theories about how these children survived such devastation.
In the aftermath, the questions become more about how and why they survived and then what they are, for relatives of the children notice they're not quite the same as they were before the crash. Unexplainable things start happening around them—some good things, some benign, and some creeeepy. Are these children miracles, harbingers of End Times, aliens, or simply traumatized innocents being hounded by the media and gullible masses?
The story is presented as a book within a book, a journalist's nonfiction tome called Black Thursday: From Crash to Conspiracy that includes interviews and conversations with people connected to the crashes. Lotz writes convincingly in the different voices of the interviewees, men and women of different ethnicities, regions, and walks of life. The sense of dread builds as characters' paranoia mounts, and some plot twists are shocking. The coincidence of this novel coming so soon after the real-life disappearance of Malaysia Airlines Flight MH370 only adds to the eeriness. The ending may be frustratingly ambiguous for some, but this epic tale shouldn't be missed. Just don't read it on a plane.
Nerd verdict: Engrossing Three
Read also my interview with Sarah Lotz here.
Giveaway: The good people at Little, Brown are allowing me to give away one copy of this book to a PCN reader. To enter, leave a comment answering this question: What was the last unexplainable thing that happened to you? As usual, lies are accepted. Got to keep entries interesting, right? US/Canada only.
Giveaway ends next Tuesday, June 3, at 9 p.m. PST. Winner will be randomly selected and have 48 hours to claim prize. Good luck!