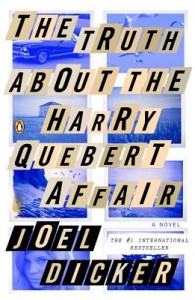 When Penguin Books acquired US rights to Joël Dicker's The Truth About the Harry Quebert Affair last year, it announced the book was the publisher's biggest acquisition in history.
Why so much money for a debut novel by a young unknown writer? Because the book was already a smash hit in France and other European countries. Now American readers get to see why.
The story opens in August 1975 with a woman's urgent call to the police, saying she sees a man chasing a young girl through the woods near her house. Cut to 33 years later, when young author Marcus Goldman is having a major case of writer's block after his first novel was a runaway bestseller. He calls up his old college professor, Harry Quebert, for help and inspiration.
Harry invites Marcus to his home in Somerset, a remote (fictional) town in New Hampshire, to get away from New York City distractions and focus on writing. Marcus has barely arrived in Somerset when the body of 15-year-old Nola Kellergan is dug up on Harry's property by a landscaping crew.
Nola was the girl seen running through the woods all those years ago; she subsequently disappeared without a trace. Now she's found clutching a handwritten manuscript of Harry's career-making novel, The Origin of Evil. Harry is arrested, and the case against him looks worse when he admits he was in love with Nola and they had a romantic but nonsexual affair.
Harry claims, however, that he had no idea what happened on the night Nola disappeared. Marcus is the only person who believes Harry and he sets out to prove his mentor's innocence. In the process, he rediscovers his passion for writing.
Though the novel is 640 pages, it's an addictive read, making me flip pages so I could finish it within two days. Dicker's style is accessible and his plot complex and twisty. I rarely knew where the story was going, just sat back and enjoyed the revelations as they came. Dicker credibly brings to life the small town's characters, each with his/her hopes, loves, and disappointments.
Nola remains somewhat a cipher, however, and seems to have had Madonna/whore syndrome. Depending on which town denizen Marcus talks to, Nola was either the sweetest girl ever or someone who did some shocking things (that were not entirely convincing). Nevertheless, her story is a sad one, and Harry's grief believable.
Dicker offers amusing insights into the publishing world via the ridiculous demands Marcus's publisher makes on him, while Harry has Marcus rethinking his views on writing:
"Don't write in order to be read; write in order to be heard."
Harry also points out to Marcus that:
"The writer's disease isn't an inability to write anymore; it's being incapable of stopping."
The Harry Quebert Affair is a sprawling novel for mystery lovers and those who appreciate the art of writing. If you fall into either or both categories, you can enter to win a copy, courtesy of Penguin Books.
Enter by leaving me a comment answering this question: Do you ever lament a lost love and if yes, who? As usual, lies are accepted. This is to keep entries interesting; I've really enjoyed your creative answers in past giveaways.
Giveaway ends next Friday, June 13, at 9 PST. US addresses only, please. Winner will have 48 hours after notification to respond before an alternate winner is chosen.