Looks like the giveaways are piling up 'round here faster than my laundry basket. You got a problem with that, stop reading right now. If you're a greedy little bugger and love free stuff like I do, I got treats for you!
Anna from Hachette is letting me give away three unabridged audiobook versions each of the following titles: David Sedaris's Squirrel Seeks Chipmunk: A Modest Bestiary and Jon Stewart's Earth. That's three copies per title.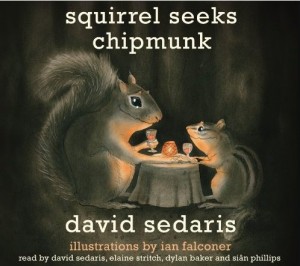 Squirrel is read by Sedaris, Elaine Stritch, Dylan Baker and Siân Phillips. Here's the product description:
Featuring David Sedaris's unique blend of hilarity and heart, this new collection of keen-eyed animal-themed tales is an utter delight. Though the characters may not be human, the situations in these stories bear an uncanny resemblance to the insanity of everyday life.

In "The Toad, the Turtle, and the Duck," three strangers commiserate about animal bureaucracy while waiting in a complaint line. In "Hello Kitty," a cynical feline struggles to sit through his prison-mandated AA meetings. In "The Squirrel and the Chipmunk," a pair of star-crossed lovers is separated by prejudiced family members.

With original illustrations by Ian Falconer, author of the bestselling Olivia series of children's books, these stories are David Sedaris at his most observant, poignant, and surprising.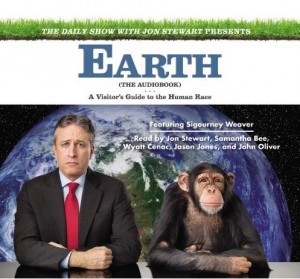 Earth is read by Stewart, Samantha Bee, Wyatt Cenac, Jason Jones, and John Oliver. The description:
Where do we come from? Who created us? Why are we here? These questions have puzzled us since the dawn of time, but when it became apparent to Jon Stewart and the writers of The Daily Show that the world was about to end, they embarked on a massive mission to write a book that summed up the human race: What we looked like; what we accomplished; our achievements in society, government, religion, science and culture — all in a lavishly produced audiobook of approximately 200 minutes.

After two weeks of hard work and nights in the recording studio, they had their audiobook. EARTH (The Book) is the definitive guide to our species. With their trademark wit, irreverence, and intelligence, Stewart and his team will posthumously answer all of life's most hard-hitting questions, completely unburdened by objectivity, journalistic integrity, or even accuracy.
Sound hilarious? You can enter for one or both titles. To enter:
be a subscriber or Twitter follower (tell me which—new subscribers get 1 entry, current followers get 2)
if you're entering for Squirrel, leave a comment as if you're writing a personal ad, telling me which animal you'd be and what kind of animal you'd be seeking (these entries are gonna be fun to read)
if entering for Earth, tell me what you think man's most embarrassing accomplishment is so far (Jersey Shore? The mullet?)
have U.S. or Canada address, no P.O. boxes
Giveaway ends next Monday, October 11, 5 p.m. PST. Winners will be randomly chosen and announced here and on Twitter. I won't be notifying via e-mail so please check back to see if you've won. Winners will have 48 hours to claim prize(s) before alternate names are chosen. (Don't forget to enter my other giveaways here.)