Happy Friday after Thanksgiving! If you celebrated it, I hope you had a wonderful time.
Since holidays include fun and games, this is a good time to post the annual meme in which I post a few sentence starters and you complete it with the titles of books you read earlier in the year. The books could've been published at anytime.
I first saw this meme in 2009 at Reactions to Reading and since then have kept it going with my own sentence starters. This year, the illustrious Jen of Jen's Book Thoughts contributed half the sentence prompts (numbers 6-10 are hers).
My answers are below. If you want to play, either post your answers in the comments or on your own blog and then leave a link in the comments. I love seeing everyone's answers!
1. Black Friday makes me: Beware Beware (Steph Cha)
2. If you post racist comments on Facebook, I: Want You Dead (Peter James)
3. In my ID photo, I look like: Werewolf Cop (Andrew Klavan)
4. If someone interrupts my reading, I: (give him/her) One Kick (Chelsea Cain) Without Warning (David Rosenfelt)
5. When I read/watch the news, I: (feel) The Furies (Natalie Haynes)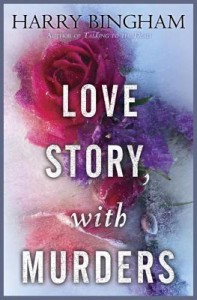 6. The last time I visited the zoo, I: (was) Watching You (Michael Robotham)
7. If I were a Supreme Court justice, I would: (help) The Forsaken (Ace Atkins)
8. Absolutely nothing compares to: You (Caroline Kepnes)
9. Best advice my mom gave me was: (avoid) Love Story, with Murders (Harry Bingham)
10. My hope for 2015 is: (I'll experience) The Wonder of All Things (Jason Mott)
Now it's your turn. Have fun!