The film adaptation of the Stephen Sondheim/James Lapine musical Into the Woods (out December 25) is an example of how star power can be effective in drawing people to the cinema. I really wanted to see this movie because of the incredible cast, but I don't normally like musicals and fell asleep when I saw the stage version many years ago, so take this review for whatever it's worth.
The story is an intertwinement of the Grimm fairy tales about Cinderella, Rapunzel, Little Red Riding Hood, and Jack and his beanstalk. There's a wolf and a witch and a prince—two of them, in fact.
Tying them all together are a baker and his wife, who must reverse a curse that prevents them from having chilren. The witch makes them go into the woods to procure four items that would help her lift the curse. Lots of singing ensues.
As expected, Meryl Streep is well cast as the witch, bringing humor and a hint of humanity to the role. Johnny Depp's wolf is appropriately lecherous and predatory and, yes, funny. Anyone who has seen Streep's and Depp's turns in Mamma Mia! and Sweeney Todd, respectively, know they can carry a tune.
The revelation is Emily Blunt, who follows her impressive turn as the badass heroine of this summer's Edge of Tomorrow with another performance unlike anything we've seen her do. Her baker's wife is the most riveting character, sensual without effort, and her singing voice is clear and pure.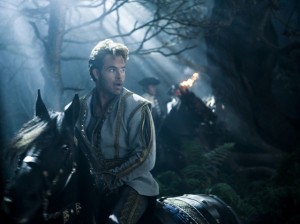 More problematic was Chris Pine's performance as Cinderella's prince. When he started his first number, "Agony," I was mortified because he was so cheesy and melodramatic. I thought, "Why didn't [director] Rob Marshall tell him to tone it down?!" Halfway through the number, I realized Pine was intentionally lampooning the concept of Prince Charming.
Once I understood that, Pine's performance became very funny, but the issue remains that his scenes are tonally incongruous with the rest of the movie. The other actors play it straight and earnest, including Anna Kendrick as Cinderella talking to birds. It can be argued that Streep's and Depp's performances are over the top, too, but witches and wolves are hardly subtle creatures and these two are simply in character. Pine's portrayal is a parody, something you'd expect to see on Saturday Night Live.
A friend who also saw Woods this weekend told me afterward that the princes are written and played that way in the stage version, too (I don't remember; I saw it a long time ago and, as mentioned, I fell asleep). She thought Pine was spot on. My friend continued to say, however, that the original production contained more comedy than the movie, so perhaps I wouldn't have found the princes' goofy scenes so jarring in tone if the movie were funnier overall.
It is mostly faithful to its roots, for better or worse. It's too long; whole numbers and scenes could've been cut without the storyline being affected. Several threads are introduced and then left dangling. But the movie has its moments, and some of the performances might be worth a trip into the theater.
Nerd verdict: Uneven but diverting trek Into the Woods
Photos: Walt Disney Studios