I receive a lot of books, and as each comes in, I read the first page or so to see if it grabs me right away. I don't read the blurbs or dust jacket synopsis because the author doesn't write those. The good stuff has to be on the page.
I'm currently reading three books because they're in different genres and I alternate between them depending on my mood. But the books are similar in that their opening passages were interesting enough to keep me reading. Here's what got my attention.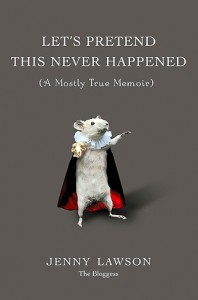 Let's Pretend This Never Happened (A Mostly True Memoir)
by Jenny Lawson (aka The Bloggess)—Putnam, April 17, nonfiction
This book is totally true, except for the parts that aren't. It's basically like Little House on the Prairie but with more cursing. And I know, you're thinking, "But Little House on the Prairie was totally true!" and no, I'm sorry, but it wasn't. Laura Ingalls was a compulsive liar with no fact-checker, and probably if she was still alive today her mom would be saying, "I don't know how Laura came up with this whole 'I'm-a-small-girl-on-the-prairie' story. We lived in New Jersey with her aunt Frieda and our dog, Mary, who was blinded when Laura tried to bleach a lightning bolt on her forehead. I have no idea where she got the 'and we lived in a dugout' thing, although we did take her to Carlsbad Caverns once."
How can you not want to read more?
The Lifeboat
by Charlotte Rogan—Reagan Arthur Books, released this past Tuesday, fiction
Today I shocked the lawyers, and it surprised me, the effect I could have on them. A thunderstorm arose as we were leaving the court for lunch. They dashed for cover under the awning of a nearby shop to save their suits from getting wet while I stood in the street and opened my mouth to it, transported back and seeing again that other rain as it came at us in gray sheets. I had lived through that downpour, but the moment in the street was my first notion that I could live it again, that I could be immersed in it, that it could again be the tenth day in the lifeboat, when it began to rain.
Why is she in court? What is she accused of? What happened in the lifeboat? It sounds ominous to me.
The Expats
by Chris Pavone—Crown, out now, international spy thriller
"Kate?"

Kate is staring through a plate-glass window filled with pillows and tablecloths and curtains, all in taupes and chocolates and moss greens, a palette that replaced the pastels of last week. The season changed, just like that.

She turns from the window, to this woman standing beside her on the narrow sliver of sidewalk in the rue Jacob. Who is this woman?

"Oh my God, Kate? Is that you?" The voice is familiar. But the voice is not enough.
Though I don't know much about the plot, I do know that Kate is a former spy living abroad with her family, trying to leave The Life behind. This woman, though, seems like bad news for Kate. Cue suspenseful movie music.
Do any of these appeal to you? Which one would you keep reading?