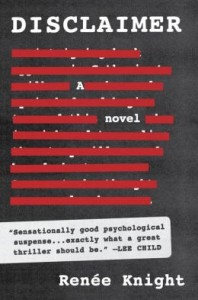 Imagine reading a thriller and suddenly realizing the much-hated main character is you. And the disclaimer about resemblances to real people being coincidental has been crossed out. This is the premise of first-time novelist Renée Knight's Disclaimer.
Catherine Ravenscroft, a documentary filmmaker in London, finds a book on her nightstand one evening and starts reading it. With horror, she recognizes the story is about her and something that happened 20 years ago, a terrible incident no one—including her husband—is supposed to know about.
Catherine doesn't recall buying the book or how it ended up on her nightstand. It's published under a pseudonym by Rhamnousia, a self-publishing entity named for the goddess of revenge. As Catherine investigates the book's origins and author, her dark secret threatens to surface and shatter her family and life.
Disclaimer alternates between Catherine's point of view, written in third person, and the first-person point of view of the man who's tormenting her with the book. This creates an unsettling experience, as if readers are asked to side with the person who stalks Catherine and wreaks havoc on her. It also keeps Catherine mysterious, making it unclear why she doesn't work harder to defend herself.
But Knight's technique pays off, and the ending delivers more than one emotional wallop. Readers' feelings about each character will likely be upended as they're reminded that sometimes people commit atrocious acts out of love, and those who behave abhorrently can also be honorable.
This originally appeared as a starred review in Shelf Awareness for Readers and is reprinted here with permission. Disclaimer also made the May Nerdy Special List.