Happy September! Even though fall in L.A. looks the same as summer, I always welcome it because it's a good season for books and marks the start of TV and movie awards season. From now until the end of the year, lots of noteworthy titles will be released, including what my blogger pals and I recommend for this month.
I'm happy to welcome new contributor Patti from Patti's Pen & Picks. Patti is the Adult Materials Selector for the Collection Development Office of the Pima County Public Library in Tucson. In other words, she knows books.
Here are our September selections.
From Jen at Jen's Book Thoughts:
Saving Capitalism: For the Many, Not the Few by Robert B. Reich (Knopf, Sept. 29)

Before you skip over this title because it's *shudder* nonfiction about economics, give me a minute to tell you why this may be the most important book you read this year. Saving Capitalism isn't about liberals and conservatives, even though Reich is liberal in his political standings. Saving Capitalism is about debunking the myths that continue the financial spiral sending a minute few almost everything and a vast majority little to nothing.

This book explains why the debate of "free market" vs. large government is a fallacy that effectively prevents people from seeing the reality, why meritocracy doesn't hold water, and why the partisan divide needs to be overcome in order to right the American economy. A capitalist society where over 90% of the people can't afford to buy in cannot sustain itself. Both Democrats and Republicans are at fault for the current state of affairs, but it can be reversed—and the system can be saved—if we have the facts and work together as a single powerful voice.

While some of the concepts Reich outlines in Saving Capitalism are complicated and complex, he delivers them in a clear, accessible approach with relatable examples and explanations. He offers realistic solutions and sound, experienced advice. Relevant, well researched, and so vitally important, this is a book that shouldn't be skipped.
From Rory at Fourth Street Review:
Girl Waits with Gun by Amy Stewart (Houghton Mifflin Harcourt, September 1)

If you've never had the pleasure of reading Amy Stewart's nonfiction, you're missing out. The Drunken Botanist and Wicked Plants are two of the most charming and hilarious books about plants ever written. I say this as a horticultural librarian, so my range of plant-based literature is actually quite large. Needless to say, I was very much looking forward to reading her first novel. I was not disappointed, not even a little.

Truth is sometimes stranger than fiction, and women's history is often more relevant than we'd like to admit. Those two things combine to make one delightful mystery. Constance Kopp, soon to be thirty-five, is having a more adventurous year than she anticipated. The destruction of her buggy by an automobile sets off a series of increasingly alarming events. Constance and her sisters make quite the trio standing against the bullying, harassment, and threatening behavior of Henry Kaufman, the driver of the car.

Based on the true story of Constance Kopp, Amy Stewart's witty debut novel is full of charm. Although I imagined it as rather effective deadpan humor, Constance's pragmatic voice is also one of a woman eschewing the expectations of 1914. The novel is fun and fresh, and Amy Stewart has managed to impress me once again. I highly, highly recommend it.
From Lauren at Malcolm Avenue Review:
Did You Ever Have a Family by Bill Clegg (Scout Press, September 1)

Did You Ever Have a Family will shoot hundreds of tiny arrows into your heart, then take advantage of the breaches to crush it to a pulp. Hands down one of the best books I've read this year, Family is a before-and-after story, told from multiple perspectives and time periods, all anchored to an epic tragedy occurring just as the curtain opens on the small resort town of Wells, Connecticut.

A tightly written, continuous rabbit-puncher of a novel, Family is about connections (family and otherwise), burdens, guilt, loss, secrets, misconceptions, judgments, betrayal, love, sacrifice, grief, and, ultimately, forgiveness. Clegg manages to give unique voices to more than ten character perspectives in a truly magnificent portrait of sacrifice and loss at their deepest. Get your Kleenex ready. (Read Lauren's full review here.)

The Big Bad Book of Bill Murray: A Critical Appreciation of the World's Finest Actor by Robert Schnakenberg (Quirk Books, September 15)

The Big, Bad Book is really a glorious encyclopedia, right down to the alphabetical format, thick glossy pages, and numerous photographs. It's a dense, almost square volume that will look great on any coffee table, and is packed with material, which lends itself perfectly to parsing out the goodness an entry—or a letter—at a time.

There is a piece on every movie Murray has been in (and some he missed out or passed on), personal facts and opinions (he has many), history, weird tidbits, quotes, and fantastic stories, some told in Murray's own words, some by others.

If you're a fan of Bill Murray, who, if not the best, is certainly the most versatile actor of our time, this book is a must have. It exceeded my expectations even though it was one of my most anticipated books of the year.
From Patti at Patti's Pen & Picks:
A Curious Beginning by Deanna Raybourn (NAL, September 1)

A Curious Beginning is an interesting beginning to a new series. The main character is Veronica Speedwell, a cross between Temperance Brennan (as played in the TV series Bones), and Amelia Peabody, the wonderful character from Elizabeth Peters's series. Veronica is blunt, occasionally naive, will attempt almost anything, and is a very strong-willed woman supporting herself in the 1880s.

Veronica, an orphan raised by two spinster aunts, is a lepidopterist who travels the world catching a variety of butterflies for clients. She's visited by a baron who knew her mother and tells Veronica her life is in danger. She accompanies him to London, where his friend Stoker, a natural historian, will protect her. The baron is murdered after Veronica and Stoker meet, and the two take to the road, trying to unravel the murder mystery and why Veronica's life is in danger.

I really liked how Veronica is always full steam ahead and not afraid to try new things or adventures. I look forward to more books in this series!
From PCN: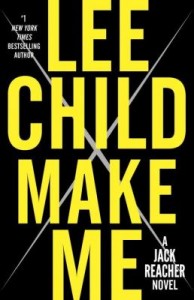 Make Me by Lee Child (Delacorte Press, September 8)
Jack Reacher is back for his 20th outing, and this one is more unsettling than the series' recent installments. Reacher finds himself in a small town called Mother's Rest, and though he starts out wanting to learn only the origin of the name, he ends up entangled in a much deeper, sinister mystery after he meets an FBI-agent-turned-PI named Michelle Chang who's searching for a missing colleague.
Make Me has the requisite bone-crushing action, and is as entertaining as it is haunting. Reacher takes some hard physical blows in this book, but the series is still going strong.
Which books are you looking forward to this month?