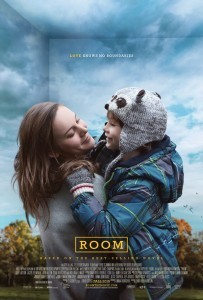 Prepare to be emotionally shattered by Room, the movie. I walked out of the screening with my face soaked in tears and told the studio rep I couldn't see straight. But this is a good thing, because it means the movie did right by the book.
In 2010, Emma Donoghue's novel had the same effect on me (see review here), and I wondered how the story would translate to the screen. Luckily Donoghue adapted her own book, so the result is faithful to the source material, losing none of its power.
As with the book, I think it's better going in knowing as little as possible, so I'll be vague and succinct with the synopsis. A 5-year-old boy named Jack lives with his ma in a tiny room and they never go outside. A man called Old Nick brings them Sunday treats. The story is told through the boy's eyes.
Lest you think that sounds simple and harmless, Room is extremely disturbing and suspenseful at times. My hands started cramping from clutching Mr. PCN's arm too hard while watching.
The cast is note perfect from top to bottom, but the movie belongs to Brie Larson and Jacob Tremblay as Ma and Jack. Though Ma puts on a positive face for Jack, Larson's portrayal makes it clear her character is only a hair's breath away from complete despair. But if her kid is threatened, she can transform into full Mama Bear.
I can't say enough about Tremblay's tremendously complex performance. He nails how Jack is in the book—preternaturally smart but still innocent, and without a whiff of cutesiness. Sometimes he throws tantrums, other times he rips your heart out. There's a moment when Jack sees the unfiltered sky for the first time, and his expression is everything.
Tremblay's work made me think of other extraordinary performances from young actors, like 8-year-old Justin Henry's in Kramer vs. Kramer and 4-year-old Victoire Thivisol's in Ponette, and I'd put Tremblay's accomplishment right up there with them. He deserves to be nominated for every award he's eligible for. As does director Lenny Abrahamson, who found just the right tone for the movie. He doesn't shy away from the difficult subject matter, but reminds us love can come from tragedy, and there is light on the other side of darkness.
Nerd verdict: Beautiful and deeply moving Room