I'm thrilled to have Laura Benedict here today because she's one of my favorite people in the crime-fiction community. She's as nice as can be, entices you with cookies and tea, but when you read her suspense thrillers, you think, "What the Freud? THAT'S SO CREEPY!" And when you tell her that, she laughs gleefully. How could you not love her?
Laura has a new book out October 15 called Charlotte's Story, which has received a starred Booklist review. It's a follow-up to 2014's Bliss House but not quite a sequel. This means the two books share the house as a character and both involve Bliss family members, but they can be read in either order.
Here's the synopsis of Charlotte's Story from Laura's website:
The fall of 1957 in southern Virginia was a seemingly idyllic, even prosperous time. A young housewife, Charlotte Bliss, lives with her husband, Hasbrouck Preston "Press" Bliss, and their two young children, Eva Grace and Michael, in the gorgeous Bliss family home.

On the surface, theirs seems a calm, picturesque life, but soon tragedy befalls them: four tragic deaths, with apparently simple explanations.

But nothing is simple if Bliss House is involved. How far will Charlotte go to discover the truth? And how far will she get without knowing who her real enemy is?

Though Bliss House may promise to give its inhabitants what they want, it never gives them exactly what they expect.
I asked Laura what was the creepiest thing she encountered while researching, and she sent along the post below. (Don't look at the pictures before bedtime.) Not only that, she's giving away an audiobook version of Bliss House and a groovy set of headphones to one PCN reader!
Read on to learn more.
Growing up, I was pretty certain I'd be a librarian. No one I knew was a writer—and it never occurred to me that I was even allowed to be one. Strange, I know, for someone who practically burst from the womb in love with books. (More on this womb thing in a minute.)

Mostly, I wanted to know things. No, that's not quite right. Mostly I was bored with real life, and the best way I found to amuse myself was to read about other people and places and the things in those places.

It made sense to me that the place to surround myself with that stuff would be the library, right? (Let's ignore the fact that I have always found the Dewey Decimal system completely opaque, and I am a scattered researcher, let alone the information-gathering superstar that every librarian is born to be.)

All I can say is, thank God for the Internet. And pictures.

My laptop can't get on the Internet at our local university library, so it's a good place for me to get some writing done. (I stick to the non-stacks areas, or my concentration is toast.) But I do a LOT of research on my phone: When did red velvet cake first become popular? What forms of birth control did Victorians use? Did Cadillac El Dorados have air conditioning in the 1950s?

You can imagine the rabbit holes I disappear into every day. But all those details are linked to background and stories, and I find the stories I write deepening as I read. It feels magical sometimes.

There's a young Japanese girl fluttering at the edges of my Bliss House series. You won't meet her directly in Charlotte's Story, but she'll be a central character in next year's Bliss House book, The Abandoned Heart. I've been doing a lot of reading about mid-19th-century Japan and the Meiji period (1868-1912). It's the pictures that feed my imagination, though, and lend an authenticity that's hard to capture in print.

I found a picture of my Japanese character, Kiku, in a set of images featuring apprentice geishas (maiko) posing in studio "seaside" photos. I love her challenging, enigmatic gaze. I also like that she might be about to rip the lobster in half, down the middle. She's my kind of character: she looks innocent, but there's something about her that's unsettling.

What's a young girl to do with herself when she's not torturing lobsters? (Really, in the novel, she's very sweet—she doesn't get scary until later.) The first thing that comes to mind for me is that she would own at least one doll. I was thinking of something like this (though it's fancy and a tad modern for the cusp of the Meiji period):

Perhaps this one is a little closer (and creepier):

Neither is really perfect. I have in mind more of a rag doll. Quite homemade. Kiku is from a family of modest means, and the doll is given to her under tense, dangerous circumstances.

But look what I found down the rabbit hole: Anatomically correct Japanese teaching dolls. They're like the most terrifying bodies ever made for the game Operation.

I know doctors have been taking apart bodies to learn about them for centuries. But there's something so disturbing about the way the human body is objectified in these dolls. And yet there are all the parts. The fact that some have the same insides that I do unnerves me.

Prior to the 19th century, medical diagnoses—particularly among the upper classes—were made primarily through observation while the patient was fully clothed. In China (and I assume in other parts of Asia, like Japan), women were forbidden from exposing any parts of their bodies to doctors, so they would carry small ivory dolls and point to the affected body part. Beyond diagnosis, models were created and used as teaching tools for doctors because cadavers were often scarce due to moral objections—particularly in the United States.

Anatomical models have been around a long time. I found one photo in Wikipedia of an anatomically correct female doll—jointed—from the 2nd or 3rd century.

Here are a few of the more disturbing models I came across:

[Ed. note: OMG, what is happening right now???]

This guy is my favorite:

If you're a brave sort of person, and like Pinterest, there are entire collections of images of anatomical models. Be warned. I can't make this stuff up.

Watch yourself around those rabbit holes. Sometimes you'll even find an animal or two peeking back at you.
OK, can I open my eyes now? Is it over?
Actually, it's not over, because Laura is giving away an audiobook of Bliss House, along with a snazzy pair of Skullcandy Sport Performance earbuds!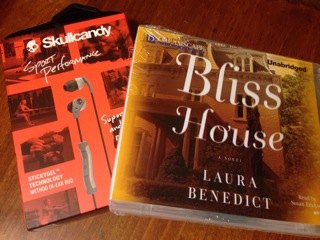 To enter, leave a comment answering this question: What's the creepiest thing you've ever unearthed on the Internet while looking up something completely unrelated?
One winner will be randomly selected and have 48 hours after notification to claim prize before an alternate winner is chosen. Giveaway ends Friday, October 23, 9 p.m. PST. US residents only.
Many, many thanks to Laura for terrifying me this guest post and giveaway. Visit her website to get to know her better, and follow her on Facebook and Twitter.