This was one of the weirder Golden Globes ceremonies in recent memory. Sylvester Stallone winning best supporting actor in a motion picture for Creed? Lady Gaga is the best lead actress in a limited series for American Horror Story: Hotel? Seriously??
After the presenters made those announcements, I wondered if they'd Steve Harveyed the ceremonies and read the wrong name. Gaga couldn't even pull off a convincing acceptance speech. Then again, Madonna won a best actress in a musical/comedy Globe for Evita, so I guess the win makes sense in the world of the Hollywood Foreign Press.
Ricky Gervais, as expected, had no respect for the celebrities in the audience—or NBC, the networking broadcasting the show—but everyone seemed good-natured about it, at least on camera. He did get a bit too graphic about Jeffrey Tambor's, ah, jewels when wondering how the Transparent actor hides them while playing a transgender, making me miss former hosts Tina Fey and Amy Poehler, whose sharp humor involves fewer comments about genitalia.
Gervais hugged it out with Mel Gibson, making up for his harsh comments about Gibson's drinking and anti-Semitic rant when he last introduced the actor on the Globes years ago. Gervais's intro this time: "I'd rather have a drink with him than Bill Cosby." Gibson's retort: "I love seeing Ricky every three years because it reminds me to get a colonoscopy."
The first presenters, Channing Tatum and Jonah Hill, did a painfully unfunny, too-long bit with Hill as the bear from The Revenant.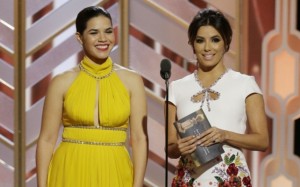 Luckily, the banter got better, notably the bit by America Ferrara and Eva Longoria, who had to list all the Latina actresses they are not but are sometimes mistaken for: "I'm Eva Longoria, not Eva Mendes." Ferrera said: "Hi, I'm America Ferrera, not Gina Rodriguez." (The HFPA's Twitter account thought Ferrera was Rodriguez when Ferrera announced Globes nominations last month.) Longoria said, "And neither of us are Rosario Dawson," to which Ferrara replied, "Well said, Salma," and Longoria said, "Thank you, Charo."
Winners I was happiest about: Brie Larson for Room, Leonardo DiCaprio for The Revenant, Matt Damon for The Martian, and Jon Hamm for Mad Men.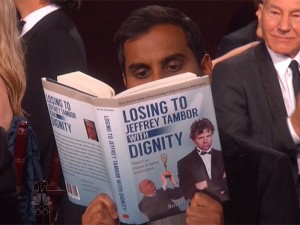 Funniest non-winner goes to Aziz Ansari. When his name is read as a best comedy series lead actor nominee for Master of None, he's reading a book titled Losing to Jeffrey Tambor with Dignity. (Tambor was the frontrunner but Gael García Bernal ended up winning for Mozart in the Jungle.)
See a complete list of winners and some memorable moments here.
Let's talk about the fashion. There weren't many superlative outfits, either stunning or WTH, so I'll just feature a few favorites.
Alicia Vikander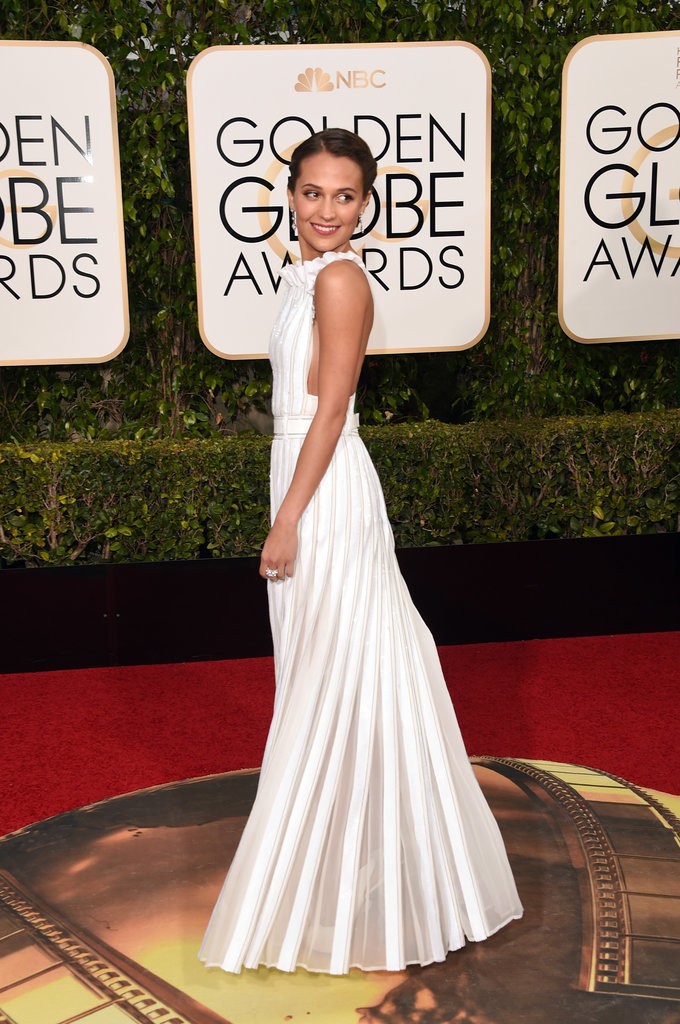 I'm not usually a fan of white dresses, but The Danish Girl star looked flawless in this. It takes a gorgeous woman to pull off a gown that kind of looks like an apron in front. The belt loops and delicate pleats make it interesting.
Olivia Wilde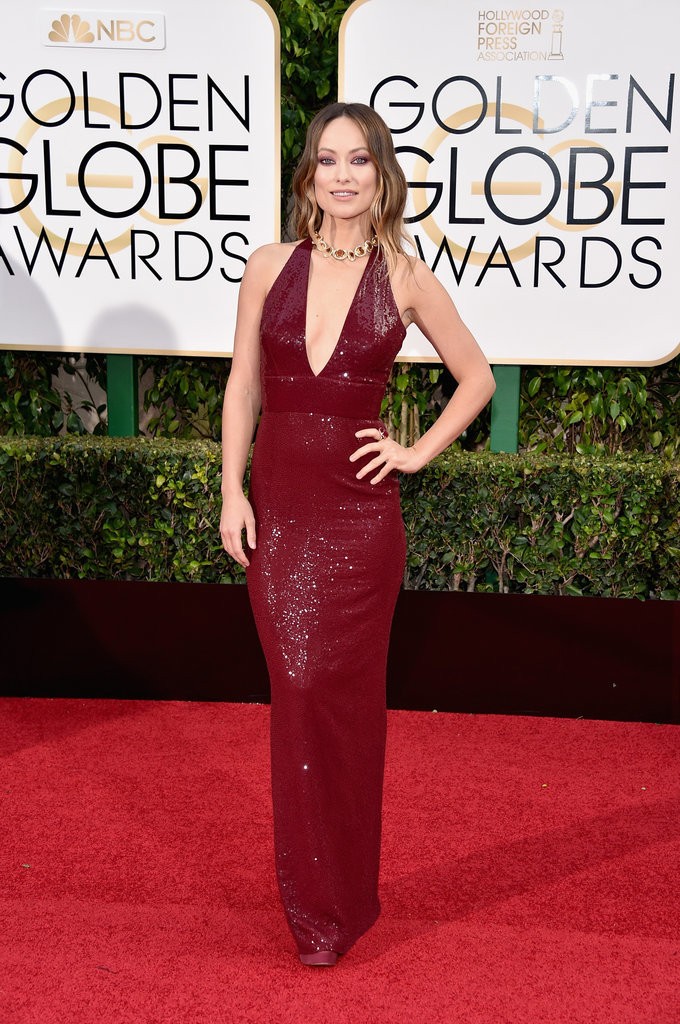 Love the rich wine color. It's so boring when people wear black sheaths on the red carpet.
Rooney Mara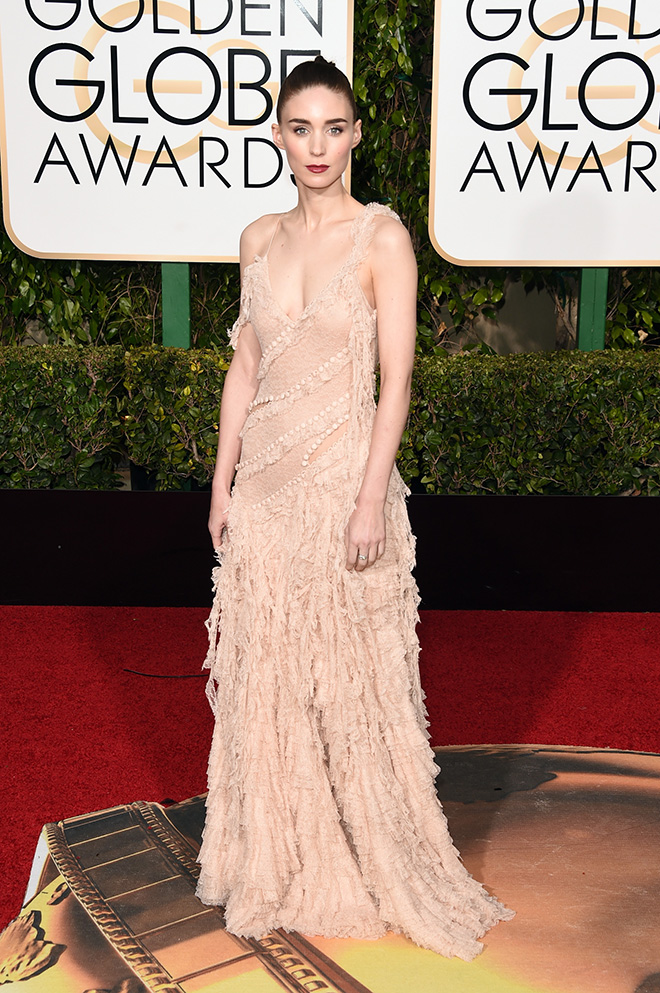 She may not hit the jackpot every time, and I don't usually like nude gowns (apparently this is blush in person), but there's always something wild and funky to Mara's choices. She's the Girl Who Doesn't Like Safe Choices. Something else I like about her: She doesn't strike that affected pose most other actresses use, with one hand on hip and one leg forward (see: Olivia Wilde above), which supposedly makes you look slimmer but instead makes all the ladies look unnatural. Mara's stance is more like: just take my picture so I can move on because I'm already bored with you.
Eddie Redmayne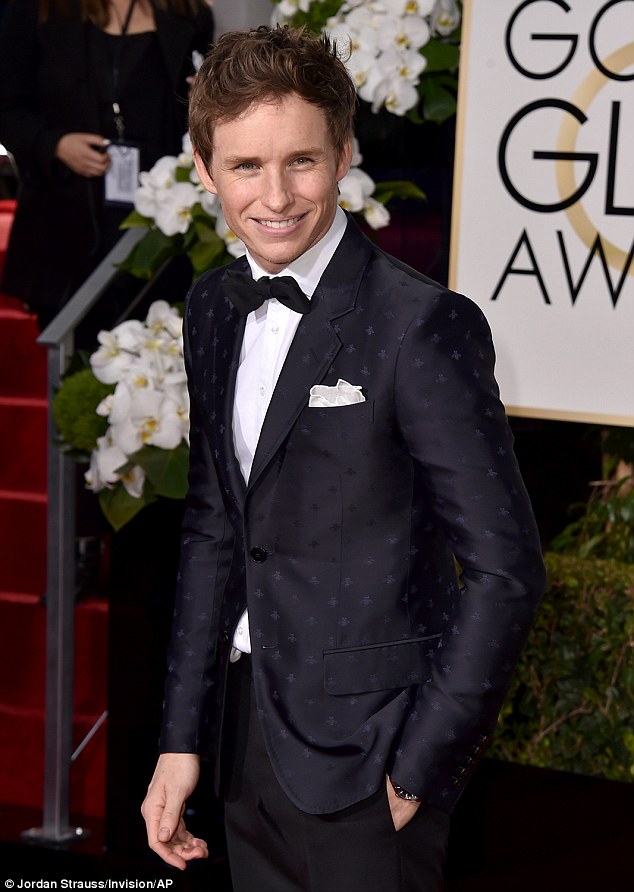 The men don't have as many sartorial choices as the women do, but Redmayne repeatedly finds ways to stand out. This time, his jacket is dark blue and has subtle embroidery. The kerchief in pocket completes this classic-but-modern look.
Did you watch? Which were your favorite bits/looks?