So…it's been an interesting month. For the past several weeks, I've been traveling a lot—all over California, into Nevada, and down under to Australia. Some of it was work-related, some not, but none of it was my idea or a trip I planned, and in each case I had little time to decide whether or not I wanted to go. I just jumped onto buses, trams, and planes, trusting I'd enjoy the experience on the other side. And I did.
The biggest lessons for me in all this? Embrace spontaneity more often, never turn down great opportunities even if they arise at the last minute, and not being in control can be exhilarating sometimes. (This could be my lazy self appreciating not having to plan things.)
But let's get on with this month's recommended reads. Here are the March releases we really liked.
From Jen at Jen's Book Thoughts:
The Way of the Gun: A Bloody Journey into the World of Firearms by Iain Overton (Harper, March 22)

British journalist and former gun-club president Iain Overton examines the life cycle of firearms in the world today. He looks at aspects of the gun from suicides to hobbies—interviewing a vast array of users, visiting some of the world's most dangerous countries, attending gun shows and studying research and data from a wide variety of sources—in order to understand man's relationship with weapons.

His own experiences as a hobbyist and embedded war journalist come out anecdotally, but Overton relies on the accumulation of all his findings to draw his conclusions. The Way of the Gun focuses on the United States because it is the world's largest manufacturer of guns, and as Overton illustrates, the US viewpoint on firearms has repercussions far outside the country's borders.

Overton uses meticulous, scientific research, and his status as a non-US citizen removes the sensitive political issues that often taint American conversations. He takes a global view of this hot-button topic, using clear, concise, and persuasive writing to produce an eye-opening read.
From Rory at Fourth Street Review:
Jane Steele by Lyndsay Faye (Putnam, March 22)

"Of all my many murders, committed for love and for better reasons, the first was the most important."

So begins Lyndsay Faye's brilliant Jane Steele. In this clever reimagining of Jane Eyre, the accidental vigilante Miss Steele's life parallels that of the classic Gothic heroine. Where Eyre does not often reveal her strong opinions, Steele acts on them. She inadvertently sets out righting the wrongs she encounters, first for herself and then for those she cares about.

Finding herself a governess at her childhood home, she aims to unravel the mysterious new owner and finds herself falling in love with him. Yet who is he, and would he be able to accept her and her black murderous soul? This is a novel that runs the risk of being ridiculous, yet isn't. It is, instead, a thrilling mystery and wonderful homage to a beloved classic.

Recommended for both lovers and haters of Jane Eyre. Those who love it will appreciate the original details sprinkled throughout. Those who hate it may feel this action-packed, satirical romance rights all of Brontë's wrongs.

Reader, I loved it.
From Erin at In Real Life:
Between Black and White by Robert Bailey (Thomas & Mercer, March 15)

This is the second (after The Professor) in Robert Bailey's series featuring law professor-turned-lawyer Tom McMurtrie. Between Black and White is both a classic legal thriller and a window to the soul of small-town southern culture. The combination is irresistible.

The story opens dramatically as a young boy, Bocephus Haynes, watches his father lynched in 1966. As a man, Bo still lives in the same town in Tennessee, and it's there where the former KKK leader he blames for his father's death is killed.

The investigation and court case that follow are gripping, and the portrayal of and insights into people and attitudes are insightful without being overbearing or preachy. This isn't a novel-length judgment piece; it's a story about people who are as complex as…well, as people are. Bailey's prose is fast-paced and clever. I can see why he's a successful lawyer himself, and can't wait for Professor McMurtrie's next case.
From Patti at Patti's Pen & Picks:
The Bursar's Wife by E.G. Rodford (Titan Books, March 1)

This is a PI novel that takes place in Cambridge, England. It hooked me pretty much from the beginning. George Kocharyan is recently divorced and has a low-key investigation business, mostly taking photos of cheating spouses.

In walks a beautiful woman who wants her daughter, a Cambridge student, followed. It leads George to places and situations he never would have imagined. It also connects him with his father's history as a caretaker at Cambridge. This book is well written, ventures into unexpected places, and kept me very interested in the outcome. Highly recommended!
From PCN: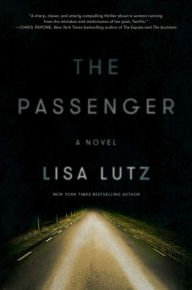 Several months ago, I was in a serious reading drought. Every book I picked up either put me to sleep or made me want to throw it across the room. What did I do? Request a copy of Lisa Lutz's The Passenger, because she's a reliable slump-buster for me. Boy, did Lisa deliver.
The novel begins with Tanya Dubois finding her husband dead at the bottom of the stairs. Instead of calling the cops, she changes her identity and hightails it out of town. She meets a woman named Blue, who could be an ally or foe, and together they go through more name changes and encounter more deaths. Tanya/whatever-her-name-is finally decides to stop running by going home and confronting the people who ruined her life in the first place.
Lisa's writing had me in a vise from beginning to end—and I was happy for it. There was no sleep until I reached the resolution. The characters are complex, the plot mysterious, the pace neckbreaking, and I was grateful for the reminder that reading could be fun again.
Which March releases are you looking forward to?