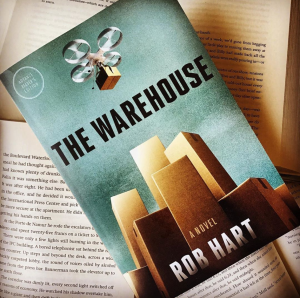 After a few setbacks in his career, Paxton is feeling hopeful again, even though he's among dozens of people being bused to a dusty town to apply for a job at Cloud, a giant retailer that has taken over much of the economy. If Paxton is hired, he won't need to worry about housing or health care; the company provides on-site apartments and medical services.
Never mind that it doesn't pay minimum wage or in cash and makes employees work seven days a week—Cloud takes care of everything!
Paxton's main motivator, however, is a chance to meet Cloud's CEO, Gibson Wells. The man is responsible for the failure of Paxton's small business, and Pax looks forward to giving Wells a piece of his mind.
Paxton befriends Zinnia, another applicant, but she's actually a corporate spy hired to gather information on Cloud's infrastructure and investigate whether the company is as eco-conscious as it claims. Neither she nor Paxton intend to stay at Cloud very long, but with the 24/7 surveillance, it might be impossible for them to get away with anything—or get out alive.
Rob Hart's The Warehouse may be labeled sci-fi but feels unnervingly plausible. The bleak world he paints is rooted in reality, in how the rich get more powerful while the poor are crippled, financially and physically.
Hart writes convincingly in three points of view: Paxton's hopeful voice, Zinnia's no-nonsense determination and Wells's "I'm a good guy" explanations. The understated prose doesn't scream that the world is in trouble. It simply creeps up and whispers that perhaps the future is already here.
Want more content? Follow me on Instagram and Facebook.
This review originally appeared in Shelf Awareness for Readers and is reprinted here with permission.