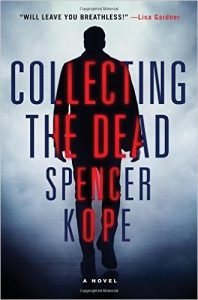 Spencer Kope's Collecting the Dead introduces Magnus "Steps" Craig, who works in the FBI Special Tracking Unit as the "human bloodhound."
Steps has the synesthetic ability to see touch, i.e., he can spot the traces people leave behind on surfaces they've walked over and touched. "Shine" is what he calls these tracks, and each person's shine has a distinctive color and texture, identifiers as specific as DNA.
Steps and his partner, Special Agent Jimmy Donovan, are on the trail of a serial killer of young women. Even with Steps in pursuit, the killer remains elusive with cunning ways of covering his tracks, leading Steps and Jimmy to fight against time and hostile terrains to find the murderer before more women die.
Steps is a welcome new series protagonist, not only because of his unusual talent but also his sense of humor and personality. He hates forests—"They're like nightmares with leaves"—but often ends up in one while tracking criminals.
Refreshingly, he's far from being a hardened hero haunted by his past. Steps had a happy childhood with a loving family—he still lives with his brother—and thus it's particularly upsetting for him to witness so much darkness in his work. Jimmy constantly reminds him, however, that they need his ability to save who they can.
Kope, a crime analyst, gives readers insight into a world in which good people, as he says in the acknowledgments, "confront fear so that others don't have to." He praises these defenders of justice, and readers will do the same to Kope for creating a humane and captivating character.
This review originally appeared in Shelf Awareness for Readers and is reprinted here with permission.