OK, let's try this again. Earlier this post was unfinished but published without my knowledge or permission. While writing it, I experienced technical issues so I saved what I had and asked tech support to look into the problems. When I went to bed, IT reps were still looking into it. 
In the morning, I got an email saying it had gone live and out to subscribers, even though I'd never asked the support team to publish it.
So here's the finished post, including my own rec, if you still want to take a look.
********
Happy May, everyone! It's raining as I type this so I'm happy to be inside curled up with a good book. Oh, who am I kidding? Even if the sun was shining, I wouldn't be outside. It's too…humany out there.
Luckily, books make great company, and here are the ones we recommend this month. Happy reading!
From Jen at Brown Dog Solutions:
Noteworthy by Riley Redgate (Amulet Books, May 2)

For those old enough to remember the Dustin Hoffman movie Tootsie, Noteworthy may conjure some of those memories.

This delightful young adult novel features Jordan Sun, a scholarship student at a prestigious performing arts boarding school. A junior at Kensington-Blaine, Jordan has never succeeded in securing a role in the school's musical, so she confronts her advisor—also the show's director—who tells her her Alto 2 voice isn't conducive for most female roles in musicals.

Feeling dejected, Jordan thinks, "What have I got to lose?" when an all-school email arrives announcing try-outs for the elite, all-male a capella club on campus. She puts her theater training to work and disguises herself as Julian Zhang to audition. For the first time in her Kensington-Blaine career, Jordan, a.k.a. Julian, discovers a place she's wanted, but how long can she maintain the charade and who exactly will she be when it's over?

Noteworthy sings with fun language, sharp dialogue, and the cacophony of high school life. Redgate builds around themes of identity, class, and of course gender roles. This is a novel that exemplifies the high standards being set for young adult literature today. Humorous, complex and engaging, Noteworthy deserves a standing ovation!
From Rory at Fourth Street Review:
The White Road by Sarah Lotz (Mulholland Books, May 30)

"I met the man who would save my life twice—and ultimately destroy it—on a potholed road in the arse-end of the Welsh countryside."

With an opening line that foreboding, I was hooked.

Sarah Lotz's latest novel, The White Road, tells the tale of Simon, once a troubled youth now an adventure seeker, trying to get a spooky website off the ground. The cofounder, Thierry, sends Simon spelunking in search of three bodies left behind in a cave, Cwm Pot.

Guided by the unbalanced Ed, they find the bodies, just as a flash flood traps him with the bones. The intense cold and darkness, along with Ed's corpse, terrorize Simon, but he makes it out alive with his film footage intact. The footage goes viral, against Simon's wishes, leaving Thierry wondering how to top it.

He decides on a literal approach, and sends Simon to climb Mt. Everest to film the climbers who perished in the attempt. Once there, Simon realizes he didn't escape the cave alone, nor is he the only one haunted.

The White Road is about Simon's ill-fated exploits and the true weight of guilt. Lotz's prose, though standard, is visceral and compulsory, and she absolutely nails the claustrophobic atmosphere. The beginning and end of the novel are excellent, and though it lags in the middle, it's worth the journey to complete the whole thing. If you're looking for a page-turner with an ending that will haunt you, give The White Road a try.
From Lauren at Malcolm Avenue Review:
A Negro and an Ofay by Danny Gardner (Down & Out Books, May 15)

Danny Gardner's debut is a powerful work of historical crime fiction. Elliot Caprice is a chameleon with no clear space in the world. The son of an interracial couple raised under the wing of a Jewish loan shark, the semi-disgraced Chicago police officer has a history on both sides of the law.

Elliot returns home to Southville, Illinois in 1952 to find his uncle ill and the family farm in peril. Determined to save them both, Elliot takes a straight job, but ends up embroiled in the multi-fronted fight over a powerful businessman's estate, not to mention his potential murder.

Elliot's shady background, sense of justice, military and Chicago PD service, and skin color make for a fascinating and combustible mix mined superbly by Gardner. Intimate, violent and intense, with just the right humorous undertones, A Negro and an Ofay is a fast-moving crime novel with a soul.
From Patti at Patti's Pens & Picks:
The Scribe of Siena by Melodie Winawer (Touchstone, May 16)

Beatrice is very empathetic, and can feel some of what happens to her patients as she performs neurosurgery on them. Beatrice takes a leave of absence to clear up the affairs of her brother after he passes away overseas.

Ben lived in Siena, Italy, doing historical research on the plague. Once Beatrice is in Italy, she reads Ben's research. Between her empathy and Ben's project, she finds herself in Siena in 1347, shortly before the arrival of the plague. Ben was researching why Siena had suffered more during the plague than any of its nearby cities, and Beatrice discovers one of the reasons.

I really enjoyed this book. I loved Beatrice, how smart she was, her sense of humor, and how she took care of herself. The descriptions of Italy in the 1300s are wonderful (though going there from the 21st century would be hard). I loved the characters, the setting, and the hows and whys of Beatrice's time travel.

Highly recommended!!
From PCN:
Where Dead Men Meet by Mark Mills (Blackstone, May 30)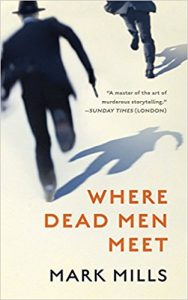 Reading this is like watching a classic Alfred Hitchcock movie, one with an everyman caught up in engrossing intrigue and on the run from dangerous spies and nefarious characters.
Luke Hamilton (think a young Jimmy Stewart or Joel McCrea) doesn't know why deadly strangers want him dead. He partners up with a beautiful woman named Piper (picture Veronica Lake or Joan Fontaine) who may be able to help him—or put him in even more danger. They race across Europe, encountering many dead bodies on their quest to find the answer to Luke's troubles, and to complete Piper's agenda of avenging a loved one's death.
The charismatic leads, sparkling dialogue, complex characters, mysterious plot, fast pace, and vivid European locales all add up to one breezy, entertaining adventure. For more info about this novel, check out the Maximum Shelf issue I did on it, which includes an interview with author Mark Mills.
What are you excited about reading this month?