It's Friday before a long holiday weekend for some. And after yet another school shooting.
When I'm heartsick, I turn to books to save me, and they always do.
Here are this month's recommendations.
From Jen at Brown Dog Solutions:
A Forest in the Clouds by John Fowler (Pegasus, February 6)

While in college, John Fowler spent a year as a research assistant for Dian Fossey at the Karisoke Research Center in Rwanda. People close to Fowler wanted to know what it was like to work with the great primatologist memorialized in Gorillas in the Mist.

Fowler experienced a dramatically different Fossey from the one the world knew, and struggled with how to respond to those who inquired. Now, decades later, A Forest in the Clouds is his answer.

It engages the reader like a novel, with humor and drama and suspense. The African backdrop, exquisitely woven into the story, adds to the exotic atmosphere with its distinctive climate and breathtaking wildlife. Fowler's insider story is a new perspective in the world of animal science.

The Cadaver King and the Country Dentist: A True Story of Injustice in the American South by Radley Balko and Tucker Carrington (PublicAffairs, February 27)

Radley Balko and Tucker Carrington's story of institutional racism, junk science, and a broken criminal justice system is a difficult one to read, but incredibly important. Their history of Mississippi racism is mortifying, and the ways it still exists today are equally horrifying.

The pair use meticulous research to build their case against Dr. Steven Hayne, a forensic pathologist; and his friend Michael West, a dentist who claimed to be a bite-mark specialist. Hayne and West took advantage of the flaws in the system, and their greed had devastating effects on people like Kennedy Brewer and Levon Brooks, who were wrongly convicted of murder.

The Cadaver King and the Country Dentist is rich in information presented in a captivating manner. It's a real-life horror story about a problem that can only be solved through increased understanding and awareness.
From Rory at Fourth Street Review:
The Great Alone by Kristin Hannah (St. Martin's Press, February 6)

After unexpectedly inheriting a homestead in remote Alaska, Ernt Allbright moves his family to the Kaneq wilderness. Suffering from post-traumatic stress disorder from his time as a POW in Vietnam, Ernt begins to unravel during the long nights in a hostile landscape.

The Great Alone is not his story, however; it's the story of his resilient daughter Leni and the life she's able to carve out in the wake of the family wreckage. Set against the backdrop of the tumultuous '70s, Kristin Hannah has written a riveting novel of survival and brutality. Memorable characters and an unforgettable setting make this bittersweet novel a winter standout.
PCN recommends:
Sunburn by Laura Lippman (William Morrow, February 20)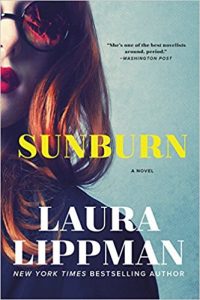 An attractive redhead with sunburned shoulders sitting in a bar in Delaware in the middle of a summer day. A handsome man approaches. They strike up a conversation, the start of something that soon escalates and spins out of control.
Sunburn was inspired by the work of James M. Cain, a master of noir and one of my favorite authors ever, so I approached it with interest but also some skepticism. From the first line, however, it was clear the description is apt. The prose is classic and contemporary at the same time, and even if you know how noir usually ends, Lippman makes Sunburn hard to resist.
What's on your reading list this month?
The affiliate links provide PCN with small commissions if used.