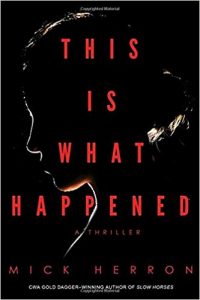 Mick Herron's standalone This Is What Happened begins in medias res, with 26-year-old Maggie Barnes hiding in a bathroom in a high-rise building during a dangerous spy mission.
Until recently, she was working in the corporate mailroom there, but then the mysterious Harvey Wells recruited her into MI5. Her ordinariness makes her the perfect mole, the last person anyone would suspect of bringing down an evil establishment.
But that average quality also means she's no Jane Bond. As Maggie creeps around the building to complete her mission while trying to evade the security guards, her chances of failure and level of fear are high. It's a killer opening.
And that's all anyone should know before starting this thriller. Part of its impact comes from the discoveries. Herron (Spook Street) constantly throws in plot bombs to blow up expectations. His sentences have no wasted words; they're just long enough to land their punches and leave.
The story goes to dark, disturbing places, but not without a sense of humor. Regarding current events, Maggie observes, "people would still fight for stupid reasons. It didn't matter that clever ones had become available." Another character intimidates someone by invoking a fake law firm: "Her imaginary firm's title contained five surnames, and simply reciting them felt like an act of assault with a briefcase."
Readers can trust Herron knows exactly what he's doing, even if what happened may not be what happened.
This review originally appeared in Shelf Awareness for Readers and is reprinted here with permission. It contains an affiliate link that could generate a small commission for PCN if used.