From the end of July until last week, I was hosting various visiting family members and did things out of the ordinary, like seeing the Rolling Stones in concert and touring Hearst Castle and going to the beach and taking more than 11 steps a day.
All these activities meant I didn't read as much but I did manage to finish 6 books in August. Here are my brief thoughts on each.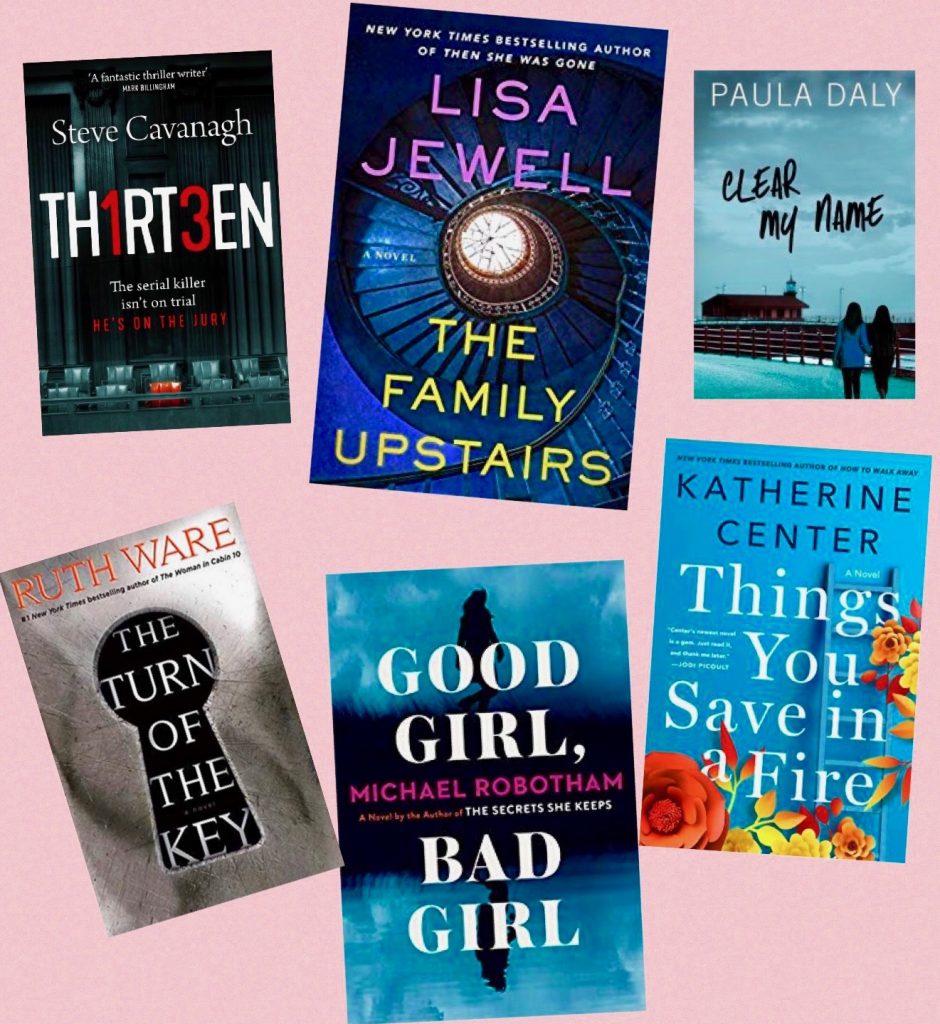 The Favorites
The Family Upstairs by Lisa Jewell
This story about a British family imprisoned in their own home—by strangers who showed up one day and stayed for years—is disturbing yet riveting. Some scenes filled me with dread, and I was never sure where the plot was headed. Both the hostage family and the interlopers exhibit cruelty and weakness and selfishness and kindness. The result is a thriller that plumbs the dark and fragile corners of the human psyche. (The cover has changed but I like this one better.)
Good Girl, Bad Girl by Michael Robotham
I cannot figure out why the Australian Robotham isn't a bigger name in the US. His books are compulsively readable, with vivid characters who leave indelible impressions. GG, BG is a standalone, about a psychologist who becomes guardian to a teen girl with a troubled past. They become involved in solving the murder of a local teenage ice-skating sensation, and along the way change each other's lives.
The Rest
Thirteen by Steve Cavanagh
Cavanagh knows how to keep readers on the hook with his fast-paced thrillers, but this one, about a serial killer who manipulates his way onto juries of murder trials, was too farfetched for me.
Even if you can steal someone's jury summons and know how to answer questions to make yourself the perfect jury candidate, how do you control which trial you're assigned to? There are several going on at a courthouse on any given day, and you're randomly assigned to a courtroom. The motive for the killings in Thirteen isn't compelling enough, and the murderer takes the most (unnecessarily) complicated and roundabout way possible to punish his victims.
Clear My Name by Paula Daly
I wanted to like this better, since it's about a female investigator working to free wrongfully convicted people. For the first half of the book I was rooting for her, but then a plot development has her acting in cowardly and unprofessional ways. The revelations at the end aren't surprising, and by that time I was no longer invested in seeing how everything turned out.
The Turn of the Key by Ruth Ware
This is a homage to Henry James's The Turn of the Screw, and is about a young English woman who becomes nanny to young children in a smarthouse controlled by technology. She can't even close curtains or take a shower without using electronic controls. As expected, things go horribly wrong.
Ware kept me engaged but this isn't nearly as spooky as James's story, a major plot point had me thinking it likely couldn't happen in the US without being illegal, and this thriller might have one twist too many.
Things You Save in a Fire by Katherine Center
I enjoyed Center's How to Walk Away, and really wanted to like this tale of a female firefighter dealing with sexism at work while taking care of—and living with—her ailing, estranged mom.
Center's prose goes down smoothly, but Tess, the firefighter, became exasperating after a while. Yes, she has to prove to her male colleagues she deserves to fight fires alongside them, but she's constantly challenging them to pull-ups and basketball and an obstacle course when strength is only one aspect of being a good firefighter.
The point that she's tough and doesn't need anyone is hammered repeatedly, and I think an actually strong person knows when to ask for help. When she becomes attracted to a coworker, it seems forced—the person comes off more like a best pal than a lover.
Which were your favorite books last month? What are you reading now?